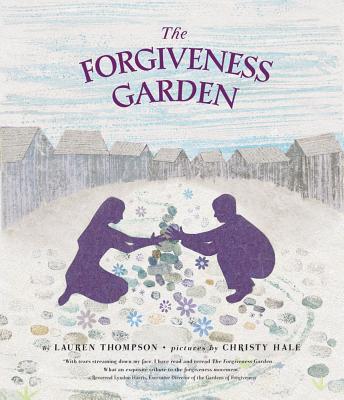 THE FORGIVENESS GARDEN by Lauren Thompson, illustrated by Christy Hale
Recently, I read that Desmond Tutu, when asked who should serve on the Truth and Reconciliation Committee of South Africa, said it should be those who were victims, those whose lives had been torn apart. But key to their selection, those chosen must be ones who had not stayed victims, rather had forgiven their oppressors.  These words rang in my ears as I read THE FORGIVENESS GARDEN.
Inspired by the original Garden of Forgiveness in Beirut, Lebanon, THE FORGIVENESS GARDEN is the story of a journey. From the flap copy: "Hate had happened. Revenge had happened. And that inspired more hate and more calls for revenge. But this time, a young girl decided to try something different…"
It's true that as I read the story of the young Vayam girl, Sama, and the Gamte boy, Karune, who had hurled the stone that injured her, I questioned Sama's softened and suddenly empathetic heart. But this is a parable, after all, and I believe it can be a very helpful tool for teachers and parents searching for books they might use to talk about conflict, diversity, differences, and how each one of us has a responsibility to consider putting those differences aside.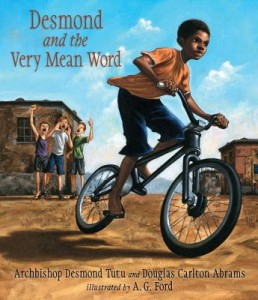 DESMOND AND THE VERY MEAN WORD by Archbishop Desmond Tutu and Douglas Carlton Abrams, illustrated by A. G. Ford (Candlewick, 2013)
I only just learned of Desmond and the Very Mean Word, so I've not had time to read the book in its entirety. But the "Look Inside" feature HERE and the description from Candlewick lead me to believe it would compliment THE FORGIVENESS GARDEN very nicely.
What books do you like to use with children when talking about conflict, differences of opinion, and considering the possibility of forgiveness?