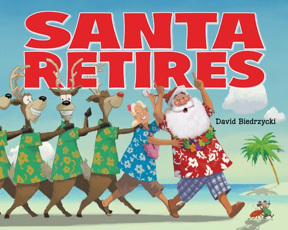 SANTA RETIRES by David Biedrzycki (Charlesbridge, 2012)
After another Christmas of lugging toys down the chimney and facing extreme weather conditions, Santa is exhausted and not his jovial self.  Thank goodness Mrs. Claus has just the solution, a vacation on Mistletoe Island. So they pack their bags and leave the elves in charge. After several tennis matches, yoga sessions and hula lessons, Santa decides to retire on the island. But after a reunion with his reindeer and newspaper reports that Christmas is in jeopardy, Santa and Mrs. Claus hightail it back to the North Pole. But is it too late? Can Santa save Christmas?
Tapping into the reality and demands of Santa's life, Biedryzcki crafts a believable tale about what retirement might look like for the man in charge. Santa may not be lively after Christmas but Biedryzcki's illustrations sure are! Bright, bold, and inventive.  Add this book to your holiday wish list! For ages 3 and up.