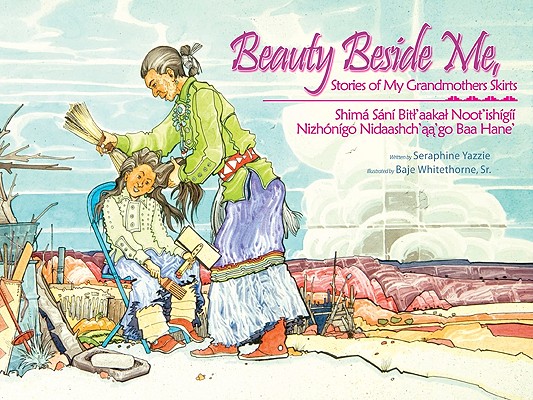 Have you ever listened to a book read in Navajo?
Probably not.
What a special gift to give a child, to hear a story told in both Navajo and English.
BEAUTY BESIDE ME, STORIES OF MY GRANDMOTHER'S SKIRTS is a treasure of words, images and sounds.  Seraphine G. Yazzie, author, describes in storytelling style the many different chores shared by granddaughter and grandmother. With each activity, the grandmother wears a different colored skirt, but with each activity, she "shares her knowledge, wisdom, and love."
Award-winning Navajo artist, Baje Whitethorne, Sr., illustrates each scene with charm and authentic details.  Each book includes a CD so readers can chose to listen to the story read in Navajo or English.  Both Navajo and English script are presented.
"Grandmother wore her brown skirt to make cedar beads….Grandmother's brown skirt swayed back and forth, back and forth, while she gave each grandchild a bracelet or necklace for protection.  She shared her knowledge, wisdom, and love when she wore her beautiful brown skirt."
BEAUTY BESIDE ME shows the tender relationship between grandparent and child as well an authentic depiction of Navajo life. Seraphine Yazzie is both an author and teacher and writes that she "hopes her book will encourage youth to both read and write creatively."  The structure of her book provides a wonderful template for children to create their own stories about activities shared with parents or grandparents.
BEAUTY BESIDE ME is one of a variety of bilingual books published by Salina Bookshelf, a multicultural publishing company located in Flagstaff, Arizona.  The publishers have collaborated with RosettaStone to create CD-ROM software as a tool for anyone to learn basic Navajo.  Salina Bookshelf publishes educational, reference, and trade books that celebrate Navajo language and culture. Their books have been recognized with national awards for content, presentation, and illustration.    Many of their books, including board books for the very young, are published bilingual.