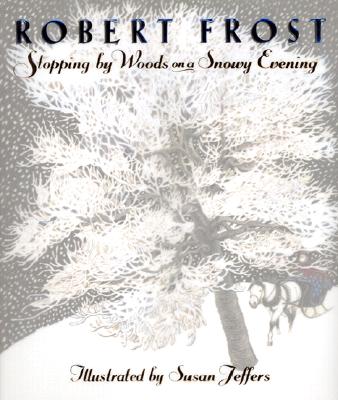 Catch a snowflake – on the flat of your hand, or maybe on the tip of your tongue.
Remember what it is like to stand on the edge of the woods on a snowy evening and feel the chill, sense the hush.
Robert Frost's STOPPING BY WOODS ON A SNOWY EVENING is a beautiful book of images created by Susan Jeffers.  The book's design is a marvel of surprises.  Susan Jeffers' paintings evoke Frost's snow-laden world.  Images unfold as the winter world of Frost is shown in softly muted colors of gray and white with surprises of color.  The poem becomes especially accessible to young readers as we follow the curious creatures of the woods, the activities of the children in the house by the woods, and especially the bundled-up "grandpa" even as he stops to make angels in the snow.  This book is a lovely gift to introduce a young reader to the joyful evocative poem given to us by Robert Frost.
"He gives his harness bells a shake,
to ask if there is some mistake.
The only other sounds the sweep
of easy wind and downy flake…."
The Poetry of Robert Frost, 1923
Stopping by Woods on a Snowy Evening (Dutton Children's Books, 2001)