LIFE IN THE OCEAN: The Story of Oceanographer Sylvia Earle by Claire A. Nivola (Frances Foster Books, 2012)
There's something magical and infinitely satisfying about swimming through quiet ocean waters. Sylvia Earle recognized that magic and according to her mother, "lost her heart to the water" early on.
All her young life, Sylvia spent hours investigating the outdoors and recording what she'd seen in her notebook. So when, at the age of twelve, her family moved from their New Jersey farm to a home in Florida, near the water's edge, it was not surprising that Sylvia's "investigations" continued. Her subjects would not be the landlocked creatures of the farm, but instead the diversity found in "every spoonful of water in the deep ocean."
Readers will enjoy a glimpse into the beautiful ocean world Sylvia came to know and study intimately.  She "believes that if we do not learn about the ocean world we will never really care about it or take care of it." She's dedicated her life to studying and encouraging others to protect "the blue heart of the planet." What better way for young readers to gain some of Sylvia's love of the watery world than to introduce them to LIFE IN THE OCEAN?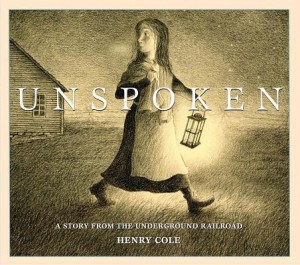 UNSPOKEN: A Story From the Underground Railroad by Henry Cole (Scholastic Press, 2012)
Though not a true biography, I'm including UNSPOKEN in today's post because this wordless story gives voice to two characters from history – a young farm girl and the runaway slave she discovers. From the jacket flap: "The stranger's fearful eyes weigh upon her conscience, and she must make a difficult choice. Will she have the courage to do what she knows is right? UNSPOKEN GIFTS of humanity unite the girl and the runaway as they each face a journey: one following the North Star, the other following her heart."
About the book, author/illustrator Henry Cole writes, "…I wanted to tell – or show – the courage of everyday people who were brave in quiet ways…"
This stunning book does just that, giving voice to all that has been left unspoken.