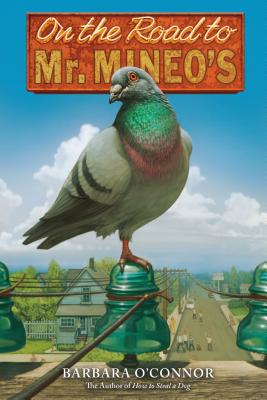 ON THE ROAD TO MR. MINEO'S by Barbara O'Connor  (Farrar Straus Giroux, 2012)
Stella wants a dog and her parents won't hear of it. So it's not surprising that when a one-legged pigeon flaps and taps its way to Meadville, South Carolina landing on the tin roof of the shed Stella and her friend, Gerald, built the previous summer, Stella can barely breathe, she's so excited. A one-legged pigeon! She's bound and determined to catch that pigeon if it's the last thing she does. And you can bet she isn't going to let Levi and his scabby-kneed, germ-infested friends catch the wayward pigeon before she does.
Meanwhile, across town, Mr. Mineo is fretting over his lost – one-legged – pigeon, Ernie. Throw in a little brown dog and a host of characters, both young and old, and you'll find yourself quickly lost in the comings and goings of the small southern town of Meadville. A town in which the pace is slow and relaxed and the paths of young and old cross. A town in which small, everyday things manage to weave themselves together in such a way that both the characters and reader are left with a smile and a good feeling that no matter what niggling problems life might come up with, it'll all surely work out in the end.
Barbara O'Connor is a master at tapping into the ordinary, even routine, moments of childhood, and elevating them until they shimmer and shine. Check out ON THE ROAD TO MR. MINEO'S and other books by Barbara O'Connor HERE. And while you're at it, enjoy this review of ON THE ROAD… HERE.