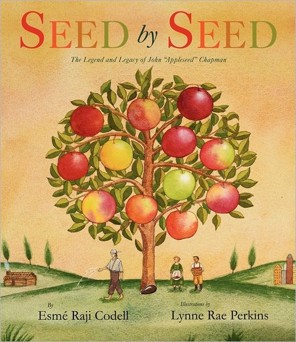 By necessity, every biographer must select from the many details that make up a life, deciding what is important to include and what can be left out. Some information may be omitted from the story because the facts can't be verified or, most often with biographies for young readers, because the materials would reveal foibles and weaknesses that would damage the subject's reputation or show young readers the person's faults and unsavory behavior. The best offer a well-rounded look at a person who did much with their life.
For the youngest readers:
SEED BY SEED: The Legend and Legacy of John "Appleseed" Chapman by Esmé Raji Codell and illustrated by Lynne Rae Perkins (Greenwillow, 2012)
Writing a biography about an iconic figure requires great to separate fact from mythology. With almost lyrical text, two modern day children are transported back to an earlier time that sets the stage for readers to learn a bit about Chapman's deeds, his philosophy on life, and on how, seed by seed, he made a difference. Codell is careful to recognize the fiction and folklore in the story, especially important since facts about Johnny Appleseed are scarce. The illustrations are rich and varied, and the book ends with suggestions for how to celebrate Johnny Appleseed and a recipe for apple pie.
For the transitional readers: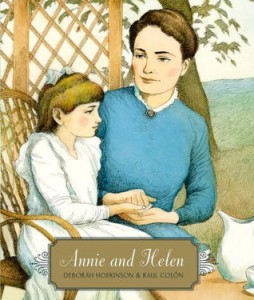 ANNIE AND HELEN by Deborah Hopkinson and illustrated by Raul Colón (Schwartz & Wade, 2012)
Through a longer picture book, the life of Helen Keller and her legendary teacher, Annie Sullivan, unfolds. Setting this book apart from other biographies are excerpts from Annie's letters about her experiences with Helen and Colon's exceptional illustrations that show the range of emotions and moods the two experienced working and living together. Today many students are learning ASL to fulfill school language requirements and Hopkinson explains the difference between sign language used by deaf people and the finger-spelling Helen was taught because she could not see. Once Helen could communicate she devoured words! An interesting lesson from Helen's work with Annie is how knowledge builds on knowledge and how once Helen could communicate she was able to move on to learning Braille. The book jacket includes the Braille alphabet and raised printing.
For the older readers: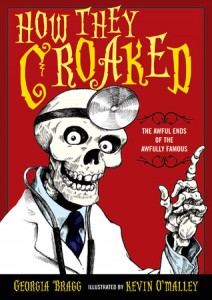 HOW THEY CROAKED: The Awful Ends of the Awfully Famous by Georgia Bragg and illustrated by Kevin O'Malley (Walker, 2011)
This compilation of biographical sketches focuses on the deaths of 19 subjects, from King Tut ("more famous for being dead than alive") through Marie Curie (for whom science was her life and her death). While enjoying this irreverent look at the demise of famous writers, scientists, presidents, and explorers, readers also gain a lot of interesting information about the lives of legendary figures throughout history and the times in which they lived. O'Malley's illustrations add to the macabre focus and an intriguing chart shows how the lives of these 19 people were oddly connected.