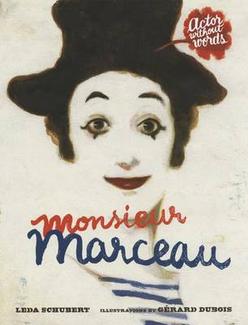 MONSIEUR MARCEAU  by Leda Schubert and illustrated by Gérard DuBois
At night on stage in Paris, Marcel Marceau, the greatest mime of all time, delighted crowds with his silent drama.  But before he created silent magic on stage, Marcel used a different and dangerous type of silence to save many lives.
During World War II Marceau joined the French Underground to help efforts to resist the Nazis.  Marceau led hundreds of Jewish children from an orphanage over the high, rugged Alps to safety in Switzerland.  Marceau risked his own life to help hide American parachutists in a French monastery.  With "sleight of hand" he changed the information on official papers so children would not be deported to concentration camps.
Share this book with a child. Readers of all ages will be delighted with DuBois's illustrations that surprise and delight.  Schubert's text tells about the world's greatest mime, on stage and off:
"He fights a bull, picks a pocket, hugs no one…
He  walks against the wind, but there is no wind."
I asked the author, Leda Schubert: 
Why did you choose to write about Marcel?  Did you see him perform with the circus "school"  for children in Vermont, or on stage somewhere else? 
As you undoubtedly know, well-intentioned friends often approach writers with something like this: "I have a great idea for you to write about." We have all developed different ways to reply. I usually encourage the approaching friend to talk about the great idea before trying to convince my friend that it's her story to tell, not mine. But the day Marceau died, my agent contacted me and asked what I thought about a picture book biography of Marceau. The "idea" seed was planted. I started reading obituaries about Marceau. Lots and lots of obituaries. I became fascinated–then passionate.
I think I saw Marceau when I was very young, but I can't confirm this. I certainly saw him on television. And I studied mime my senior year in college. (Some of the people with whom I took that class have gone on to work in theater arts.)  Mime is so physically and emotionally challenging, and I loved the brief introduction to the art. Most of the 'street mimes' we see these days are very far from being true mimes. I hope people will pick up my book and investigate further. Of course, Marceau's story is about much more.
Did you already know about his work with the French Resistance or was that a discovery while doing research?
I knew almost nothing about him. I didn't know he was Jewish, for example. I didn't know he was also an artist. There was so much to learn!!! The research, as usual, took a long time, but I love doing research. Don't you?
Do you recommend other YouTube videos that show a performance?
I'm sure readers would enjoy seeing the clip of M. Marceau and Michael Jackson together. Marceau taught Jackson to moon walk.
Here's a piece from CBS Sunday Morning remembering M. Marceau
And there's a long selection of his work in a tribute piece HERE. Feel free to watch without sound.
Let me add, I want to thank Gérard DuBois for his amazing, transporting art and Neal Porter and everyone at Roaring Brook Press for bringing this book to readers. And to you, Nancy, for this interview.
Leda
Thank you, Leda, for writing about this man who was an artist, a silent soldier, a lover of laughter and the human heart.  In this book a reader will see the magic of mime come alive in the illustrations and hear Marcel Marceau's teasing voice:
"Do not meddle in the affairs of wizards,
for you are crunchy and taste good with ketchup."
MONSIEUR MARCEAU is a picture book biography to be enjoyed by all, published by Roaring Brook, 2012.