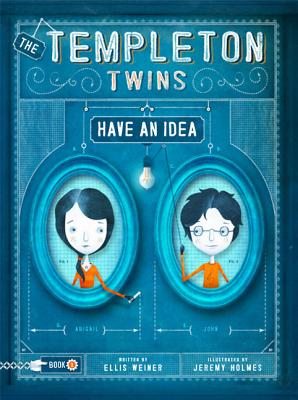 THE TEMPLETON TWINS HAVE AN IDEA by Ellis Weiner, illustrated by Jeremy Holmes (Chronicle, 2012)
The ReaderKidZ have been talking all month about "Families in Change" and there have been many terrific recommendations. Books about a child living in foster care, the difficulties of divorce, the loss of a family member to cancer, the reality of life in a war-zone.
But today's book takes a entirely different (and lighter) tone. Yes, it's about siblings – John, the pragmatic brother and Abigail, his incredibly bright, crossword-whiz sister. It's also about a family in change – a mother who's been ill and who dies at the story's beginning. But with a snarky narrator, reminiscent of Lemony Snicket, ("You will have to bear with me, Reader. I have never done this sort of thing before – written books, told stories to complete strangers who, frankly, I may not particularly like. Yes, I am referring to you. Would I like you if I met you? I'm not sure I would.") and a mystery that begs to be solved, it's entirely fun, quirky, and entertaining.
The Templeton Twins Have an Idea is the first in a series that's sure to hook kids from the very first page and have them impatiently waiting for the twins' next daring adventure. Learn more at www.thetempletontwins.com. (Grades 2 and up)