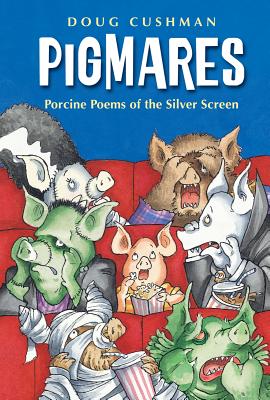 PIGMARES: PORCINE POEMS ON THE SILVER SCREEN by Doug Cushman
No Halloween will be complete without author/illustrator Doug Cushman's hilarious hog tribute to some of the best beasts ever to star on the silver screen.  Whether young readers imagine they're like Dr. Hogg mixing potions that taste like dirty underwear or a werehog oinking at the moon, one thing is for certain; they'll be caught up in Cushman's creative magic and wallowing in laughter.  Don't be surprised if they want to write a pigmare or two of their own.
Within a collection of seventeen poems, Cushman takes silly swines to new heights with ghoulish sidesplitting antics while his poster-like watercolor illustrations create drama and mischief. One little pig will never watch monster movies before bed again. Impeccable rhythm and rhyme! Pigmares is for ages 7 and up.
To learn more about author/illustrator Doug Cushman click HERE to read the interview at Carmen Oliver's blog, One Word at a Time.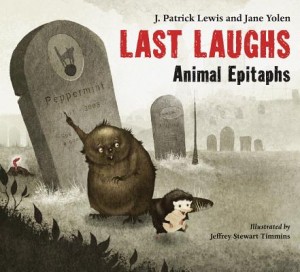 LAST LAUGHS: ANIMAL EPITAPHS by J. Patrick Lewis and Jane Yolen, illustrated by Jeffrey Stewart Timmins
In every corner of the cemetery lie creatures' plights and readers will delight in uncovering the unfortunate turn of events that led them to their resting places, like the flickering moth "who lived by the fire and died by the flame."
Lewis and Yolen are pure genius in this pun-filled book of animal epitaphs and children will be laughing out loud at the words written on each animal's tomb. Timmins' illustrations encapsulate light and darkness and add another layer of humor to the authors' original collaboration. Poetry fans of all ages will have fun choosing their favorite epitaph.  My money is on the "Cooked Goose" or "Woodpecker's Last Hole." A riotous romp for ages 7 and up.