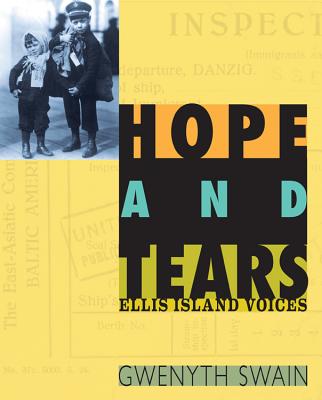 Ellis Island's very first "processed" immigrant was fifteen-year-old Annie Moore from Ireland.  She arrived on January 1, 1892 after two years of separation from her parents as they worked to save enough money to pay for her passage.  Her story is one of many told with narrative, verse and photographs in this remarkable book, HOPE and TEARS: Ellis Island Voices by Gwenyth Swain.
Jarek, a Polish immigrant, already more than half-grown up, arrives to be reunited with his father whom he has never seen:
   "Maybe Father won't know me.
                    But he does know my name.
                    He left home when I was just a baby…          
                    And now I'm here, ready to pass his inspection.
                    Ready to be his son at last."
Within the covers of this book, Gwenyth Swain tells the stories and voices of the many workers, inspectors, cooks, officials and immigrants who were part of the transitioning of thousands  – children, orphans, parents – from "old country to new."  Some of the stories are told in drama format, ready to be read as reader's theater.  Others are vignettes, portraits, and even simple images or historic photographs. The reader is pulled into the rich visual and oral history of the human experience of this American era, place, and process.     Published by Calkins Creek, BoydsMills Press, 2012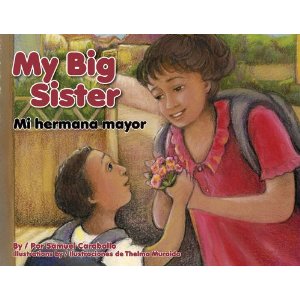 MY BIG SISTER  /  MI HERMANA MAYOR  is a bilingual picture book by Samuel Caraballo and illustrations by Thelma Maraida.
Sometimes when parents change jobs, the family has to make big changes as well. Told in both Spanish and English, this simple but lyrical book shows how a big sister can ease the loneliness when both parents need to leave early in the morning for work and do not return until late at night.  Big sister, Anita, wakes up her little brother, Pablito, and a busy day begins.  Screeech!  Anita is there to help Pablito hop onto the giant yellow school bus.  Ding, dong, ding!  Anita is waiting at the end of the school day to hold her brother's hand and listen to his adventures.  Zz-Zz-Zz…Pablito falls asleep as Anita reads one more book.
This bilingual book is a Pinata Book, published by Arte Público Press, University of Houston, Texas, 2012.  A variety of bilingual titles can be found at their website: www.artepublicopress.com.