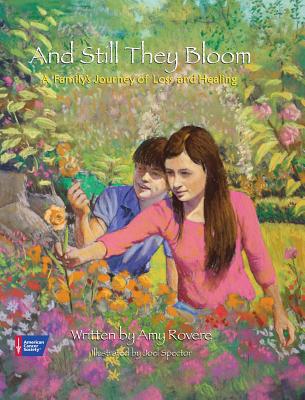 And Still They Bloom: A Family's Journey of Loss and Healing by Amy Rovere
Cancer is a powerful word. Depending on your personal experience, it can be the word that changed everything. The word that turned your own world and the world of those closest to you, upside-down.
For those grieving the loss of a loved one, Amy Rovere's book, AND STILL THEY BLOOM (American Cancer Society, 2011) offers solace and a way to share the difficult feelings, questions, and realities one must address after losing a loved one. It tells the story of Emily and Ben, two children who've recently lost their mother to cancer. Confused, angry, sad, neither child knows how to address their overwhelming feelings of grief.
Organized into short 2-3 page vignettes, readers walk through Emily and Ben's days as they begin the long process of trying to make sense of the changes cancer has brought to their small family. These short scenes provide both children and adults touch points for conversations that can begin a journey towards acceptance. It's a book parents will want to share with their children. A book readers will find invaluable in attempting to make sense of and bring hope after the loss of a loved one.
When she was still a young girl, only nine years old, the author, Amy Rovere, lost her mother to cancer. Her personal loss at such a young age, and her work now with the American Cancer Society make AND STILL THEY BLOOM an honest and powerful resource for those looking for a way through grief to acceptance and healing.