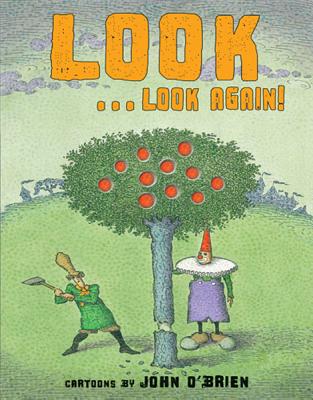 LOOK … LOOK AGAIN CARTOONS BY JOHN O'BRIEN
Don't poke your fingers in this book!
But what are holes for?  Poking!
Okay, poke. The holes are real.  But don't laugh.
What is this book for? Reading.
Oh, okay, and laughing.  And thinking.  And poking fingers through holes.  And thinking outside of the holes.
Dear parent or teacher or kid, this book is just plain fun, a playground of pictures, a few words, and funny twists to think about.  Go ahead. Poke your finger through the holes. Enjoy a series of story cartoons that poke holes in your thinking.
John O'Brien, cartoonist – contributor for The New Yorker, has put together strange delightful cartoons that tickle the brain and invite even the most reluctant reader to enjoy this book, published by Boyds Mills Press, 2012.