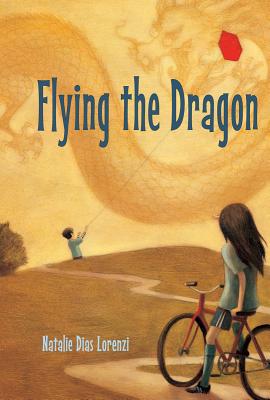 Debut novelist Natalie Dias Lorenzi crafts a beautiful multi-layered story told in the alternating points of view of fifth graders, Skye and Hiroshi. The two are cousins who've never met until Hiroshi's family leaves Japan so Grandfather can receive a new innovative cancer treatment in the United States, where Skye's family lives.
Thrust together by family circumstances, Skye and Hiroshi struggle to hold onto the things that they've worked hard for all their lives. For Skye, it's the chance to play with the All-Star soccer team, and for Hiroshi, the opportunity to fight in a rokkaku kite battle with Grandfather. Both of their wishes are in jeopardy with the changes brought on by the new family environment. Skye is embarrassed at school by Hiroshi's differences, and Hiroshi resents having to share Grandfather, especially when it comes to the world of rokkaku kite-flying, their special bond.  But Skye longs to know her grandfather who, up until now, has been foreign to her.
When Hiroshi learns about a rokkaku kite battle in Washington, D.C., he wants to leave Skye out of it, even though Grandfather insists on including her.  As Grandfather's health deteriorates, Skye and Hiroshi are faced with a decision – either put aside their differences and work together, or risk losing what is important to them, including honoring their grandfather.
A story about family, forgiveness, and friendship, readers will be pulled into the world of rokkaku kite battling as if they were flying their own kites. FLYING THE DRAGON is for ages 8 and up.
To learn more about author Natalie Dias Lorenzi and her middle grade novel click HERE to read the interview at Carmen Oliver's blog, One Word at a Time.