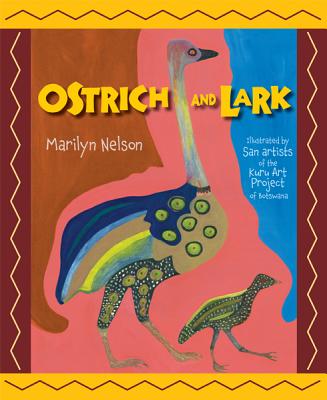 Some books are extraordinary, even haunting.  OSTRICH AND LARK is one of these books.  This picture book by Marilyn Nelson with illustrations by the San artists of Botswana is unforgettable.
The story of Ostrich and Lark is a variation of the universal story of finding one's own voice regardless of the physical limitations and physical body in which one lives.  Ostrich is big, flightless and even song-less.  His best friend, lark, sings from morning till night and flies into the blue African sky whenever he wishes to join the other birds of the veld:
"Every day, all day,
Over the cicada's drone,
A drizzle of buzzings fell,
And a downpour of birdsong.
Hornbill, bee-eater, hoopoe, diederik,
Mousebird, Whydah, canary…."
The art for this book was created by six San artists who are members of the Kuru Art Project. Each page is a feast for your eyes.  The unusual colors are vibrant, intense, and pure.  The images seem to leap right off the page and carry you to the stark strange landscape of the Kalahari Desert.
Marilyn Nelson met the San artists of the Kuru Art Project while traveling through Botswana. She collaborated with the artists to create this book and introduce young readers to this ancient African culture.  The author's proceeds will be donated to the Kuru Art Project. OSTRICH AND LARK was published by Boyds Mills Press, 2012.