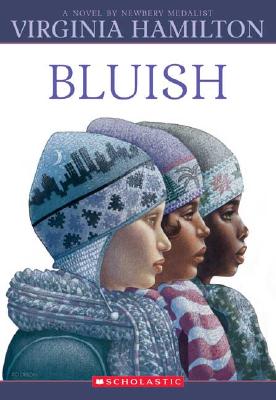 ZEELY was the first book of Virginia Hamilton's, published in 1967.  BLUISH was her twentieth, published just two years before her untimely death in 2002.  Each book has its own strong and unique voice, a strong and unique theme.  But each book, each story, successfully reflects Virginia's goal: "she saw her work as helping to portray 'the essence of a people who are a parallel culture community of America,' while at the same time revealing the universality among peoples."
BLUISH brings us into the world of Dreenie and her fifth-grade class.  Students are confronted with an uncomfortable situation: a new kid.  Worse than that, the New Kid is strange – acts weird and looks, well, "bluish," maybe about to die, usually too weak to leave her wheelchair.  Bluish is scary.
Cancer…is it contagious?  You never know.  The kids stay away from Bluish except for one, Dreenie.  But her feelings are conflicted.  What if everyone soon stays away from her because gets too close to Bluish?
The book not only shows us Dreenie's struggle with friendships and bullies as well as her own fears, the book also shows us the struggle of a "cancer kid:" how to be independent, how to be at least a little bit normal, and how to be a friend.
This powerful story has been reissued as an e-book with a short bio and images of Virginia Hamilton included in an epilogue. Virginia Hamilton was and still is a major literary figure whose work has been recognized with nearly every possible children's literary award.  In this classic tale of friendship, we see how difficult relationships can be when one child is faced with physical and medical challenges.
This book is a true treasure.  BLUISH shows the "essence of a people…while at the same time revealing the universalities among peoples."
Blue Sky Press, $5.99 and now available as an e-book.
To read more in her own words: Virginia Hamilton, Speeches, Essays, & Conversations, edited by Arnold Adoff & Kacy Cook, 2010 and take a look at the official Virginia Hamilton website: www.virginiahamilton.com .