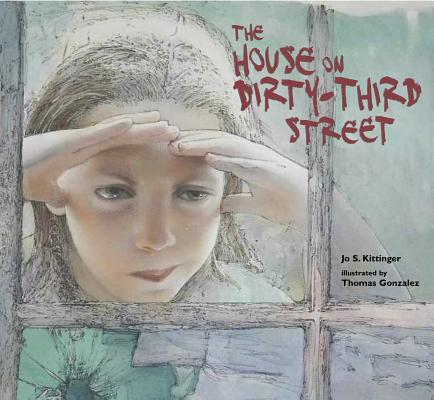 THE HOUSE ON DIRTY-THIRD STREET by Jo S. Kittinger, illustrated by Thomas Gonzalez, Peachtree, March 2012
A run-down dirty old house is bad enough to have to claim as home.  When moving in to dirt also means "moving away" from everything that has been home, it is hard for anyone not to feel discouraged, angry, and ready to give up.  During our country's difficult economic times, all too often children and families face this challenging situation.  Seldom is "starting all over" depicted in a children's picture book.
THE HOUSE ON DIRTY-THIRD STREET presents a realistic look at how hard it is to face being the new kid in a new town moving into the worst house on the block.  A lot of children will relate to this situation.  Jo S. Kittinger has created a believable and powerful story about how individuals within a community can offer the kind of help that makes all the difference between coping and quitting. Thomas Gonzalez's illustrations softly, gently pull you into the neighborhood, the dirty old house and the beautiful spirit of each person who offers a helping hand.
This book shared by a classroom or a family offers much to think and talk about.  How do we help each other?  What is community and why do we need one – or several?  Why do families sometimes have no place to live, no place to call home?  And why is our first reaction to look away, step aside or close a door?
I suggest the older interested reader take a look at SUMMER OF HAMMERS AND ANGELS, which presents a similar situation.  This novel, by Shannon Wiersbitzky, was reviewed HERE at ReaderKidZ on August, 2011.