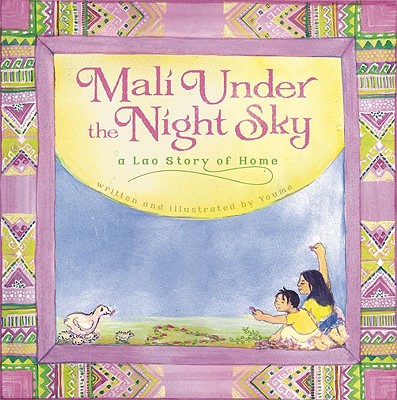 MALI  UNDER THE NIGHT  SKY,  A LAO STORY OF HOME written and illustrated by Youme Landowne,  is the true story of the Laotian-American artist, Malichansouk Kouanchao, who fled Laos with her family as civil war became the reality of bombs, soldiers, machine guns and grenades.  The story is narrated by Mali as she describes her family's escape and journey to safety.
"The world was big – ngaii…." Mali says and their journey was long. Before leaving their homes, the travelers met with the rest of the villagers. They tied brightly-colored strings around each other's wrists – soag sai – as a reminder that wherever they might be, their hearts would always be together.
The colorful illustrations depict individual children as their lives are about to abruptly change: "quick, quick, vai  vai!"   The voice of Mali, the child narrator, is captivating and hopeful.  The reader is invited to walk with Mali as she says good-bye to her grandparents, the delights of the daily market, the soothing sounds of her village.
Mali under the Night Sky, recognized as a Stepping Stones Honor Book, was published by Cinco Puntos Press, 2010.  Mali and her family eventually made their new home in Minnesota.  You can learn more about Mali, now an artist, at her website: djai.net/mali.
In the city of  Minneapolis, as dawn breaks, follow the crowing of roosters and you will find an inner-city shelter for city chickens: Chicken Run Rescue.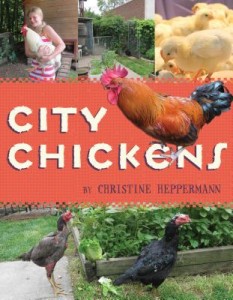 CITY CHICKENS, created by Christine Heppermann, is a photo-narrative picture book about a unique animal shelter – a sanctuary for lost chickens!  This rescued residents are not the traditional farm and hen-house poultry.  This shelter takes in chickens that have been abandoned, "flown the coop," or gotten lost in the middle of a very big city.
Has Minneapolis gone to the birds? Yes. Many city-dwelling families across the US now raise chickens. "Home-grown" fresh eggs are picked right from families' backyards or balconies.   But too often these chickens become homeless.  A lost chicken is soon a hungry chicken and easy prey for dogs and cats.
CITY CHICKENS is both heartwarming and educational as the reader learns about this unusual rescue effort in North Minneapolis. The home in which hens and roosters convalesce is called "Chicken Run Rescue." The descriptions plus photographs capture the care given to the city's wayward fowl. The book would be a SUPERB resource for elementary teachers considering units on science or social studies – communities and neighborhoods.  More information can be found at author, Christine Heppermann's website, City Chickens, where you will discover chickens in a bookstore!