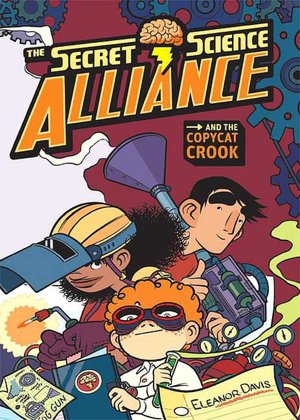 Graphic novels are perfect for summer reading. Some kids (and parents) gasp when I say that graphic novels and comic books "count" for reading just as much as words-only books do. Of course they do! Open up a graphic novel like The Secret Science Alliance and the Copycat Crook by Eleanor Davis and you'll find rich vocabulary, an enticing main character, an action-riddled plot, all the components of a good book. But with comics and graphic novels, you also get art that draws in readers, especially reluctant ones.
 For the youngest readers: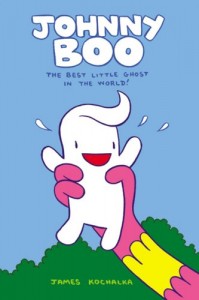 Johnny Boo: the best little ghost in the world! by James Kochalka (Top Shelf Productions, 2008) Johnny Boo and his pet ghost, Squiggle, are the cutest, marshmallow-iest ghosts you'll ever see. Johnny has some secret ice cream, and when the Ice Cream Monster comes along, Squiggle has to use his Squiggle power to save the day and maybe even to make a new friend.
For the transitional readers: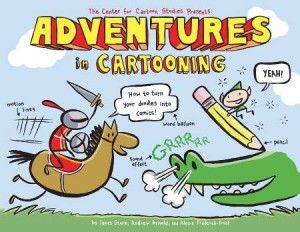 Adventures in Cartooning by James Sturm, Andrew Arnold, and Alexis Frederick-Frost (First Second, 2009)
A princess, a knight, and an elf go off on an adventure that shows kids step by step how to write and draw a comic.  Three artists from the Center for Cartoon Studies have created a book that's as much a teaching tool as it is a story, and its simple, clear style is just what every budding cartoonist needs.
For the older readers:
The Secret Science Alliance and the Copycat Crook  by Eleanor Davis (Bloomsbury, 2009) This is the most intelligent graphic novel I've seen for kids lately. I love the unlikely trio of science whiz kids: the typical nerd who's trying to fit in, the tough chick, and the jock who doesn't think he is smart because he doesn't do well on tests. While the plot isn't hugely deep – the kids thwart an evil "inventor" (who actually stole their ideas) from robbing a museum – the book is so well-drawn and well-written that I read it in one sitting and was sad to see it end.