Graphic novels are perfect for summer reading. Some kids (and parents) gasp when I say that graphic novels and comic books "count" for reading just as much as words-only books do. Of course they do! Open up a graphic novel like Binky the Space Cat by Ashley Spires and you'll find rich vocabulary, an enticing main character, an action-riddled plot, all the components of a good book. But with comics and graphic novels, you also get art that draws in readers, especially reluctant ones.
For the youngest readers: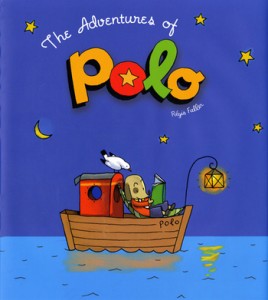 The Adventures of Polo by Regis Faller (Roaring Brook Press, 2002)
This picture-book-sized wordless book is a great introduction to graphic novels for littler ones.  Polo the dog lives on his own island. One day he goes out his front door, across a tightrope that turns into stairs, and off on an adventure that will take him to the moon and back.  It's whimsically fun, and because it's wordless, you and your child can use your own words to describe what you see.
For the transitional readers:

Binky the Space Cat by Ashley Spires (Kids Can Press, 2009)
Binky is (or thinks he is) a super-top-secret Space Cat, with a mission "to one day blast off into outer space…" even though he hasn't ever actually been outside. Inside his Space Station (house), he takes good care of his humans by protecting them from ALIENS!! (flies).  There's an obvious, hilarious disconnect between the words and the pictures, and readers will quickly realize that what Binky thinks is not exactly what's really going on.
For the older readers: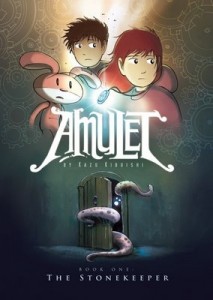 Amulet: Book One: the Stone Keeper  by Kaza Kibuishi (Scholastic, 2008)
The Amulet series is what hooked my then seven-year-old son on reading. Em and Navin move into their great-grandfather's spooky old house and find a mysterious stone amulet. When their mother is kidnapped by arachnopods, Em and Navin must enter another world and use the amulet to save them all.  It's an action-packed book that will make kids eager to read the whole series.