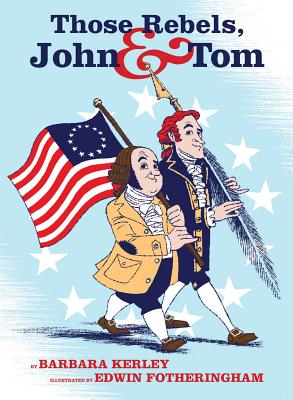 a team of brothers, a pair of heroes, and a boy in the Black Hills of S. Dakota have in common? They're all the subjects of some of 2012's wonderful new biographies for children.
THOSE REBELS, JOHN & TOM by Barbara Kerley, illustrated by Edwin Fotheringham (Scholastic Press 2012)
I adored this book and so did my class! Not only because THOSE REBELS – on the surface a deceptively simple, yet creatively profound structure comparing John Adams and Thomas Jefferson – was an excellent introduction to our third grade unit on government, but also because the text and illustrations offered students a very tangible window into the lives of two of our country's most prominent founding fathers.
THOSE REBELS is nonfiction for kids at its best. Don't miss it!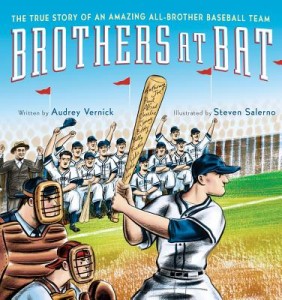 BROTHERS AT BAT by Audrey Vernick, illustrated by Steven Salerno (Clarion Books 2012)
If you were growing up in 1930s New Jersey and there were 16 children in your family, what would you do?  If you were one of the Acerra brothers, you'd form a semi-pro baseball team!
Audrey Vernick brings the story of this remarkable, close-knit family to life on the pages of BROTHERS AT BAT. Students will enjoy following the brothers as they live through wins and losses, good days – like the time the oldest brother, Anthony, "hit a couple of home runs right into the Atlantic Ocean" and the darkest of days when Freddy lost an eye to a wild pitch.
This story of an unusual group of brothers will warm your heart.
Looking for another excellent biography by Audrey Vernick? Check out a ReaderKidZ review of SHE LOVED BASEBALL: The Effa Manley Story HERE.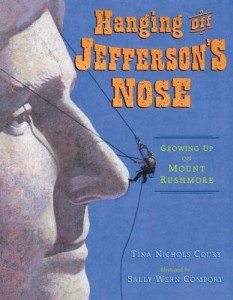 HANGING OFF JEFFERSON'S NOSE by Tina Nichols Coury, illustrate by Sally Wern Comport (Dial Books for Young Readers 2012)
Did you know that were it not for the efforts of a young boy named Lincoln, the son of sculptor Gutzon Borglum, the beautiful monument we know as Mount Rushmore might never have graced the Black Hills of South Dakota?
It's true. Having grown up in the shadow of Mount Rushmore, it was Lincoln who finished his father's dream of carving (and blasting!) a monument into the side of a mountain. His father began the project and taught Lincoln everything he needed to know, but it was Lincoln who actually finished the sculpture 14 years later, and stayed on as Mount Rushmore's first ever superintendent.
Read this remarkable story about a slice of our history and one of America's most amazing iconic national symbols.