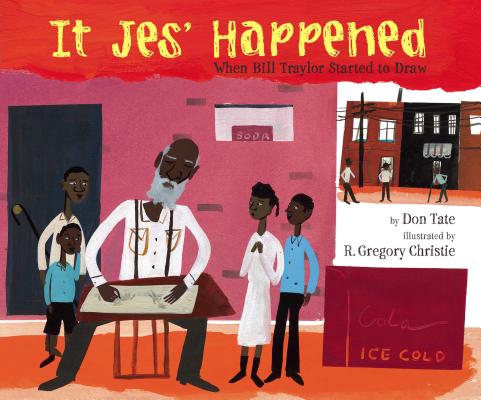 Bill Traylor began to draw when he was in his eighties! Not as a child raised as a slave. Nor as a young adult during the ravages of the Civil War. Most certainly not as a young father struggling to feed his family by working as a share cropper. No. Bill Traylor saved up a lifetime of vivid memories – historically valuable memories – which, late in life, like a gushing waterfall, poured out through his aged hands, gripping pencil nubs to cardboard scraps for the world to see. He drew pictures of families and animals, tragedy and spirituality. Important pictures that not only tell one man's story, but that of many during a historically oppressed time.
In actuality, Don Tate's story is a testimony of admiration and friendship. For as the story goes, young artist Charles Shannon, a white man, realized the timeless resonance of Traylor's folk art. Shannon worked to eventually exhibit Traylor's treasures in the Concord Gallery of Art in Washington, DC.
To further compliment It Jes' Happened: When Bill Traylor Started To Draw, Don is offering an in-depth, downloadable teacher guide on his website. The guide offers a rich variety of activities which celebrate the artwork, life, and times of an incredible man – Bill Traylor.