It Jes' Happened: When Bill Traylor Started to Draw by Don Tate, illustrated by R. Gregory Christie, shows the life journey from slavery to artistry of Bill Traylor.  His story is not always a happy one, but it is full of courage and "making do" when life goes in unexpected directions.  Bill Traylor used bits of paper and cardboard and drew his unusual pictures while sitting on the sidewalk of Monroe Avenue of Montgomery, Alabama.  People bought his drawings for a few pennies a piece.  Others helped him with art supplies.  This biography tells the story of an artist, but also of a time when this country needed healing and blacks and whites were learning a new way of working together.  Lee and Low, 2012 – honor book of the New Voices Award.
Silent Star: The Story of Deaf Major Leaguer William Hoy by Bill Wise, illus. by Adam Gustavson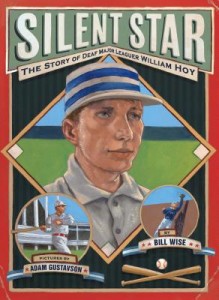 Strike three;  you're out!  William Ellsworth Hoy, one of the first deaf players in major league baseball, scored 100 runs or more in nine different seasons and had over 2,000 lifetime hits.  Hoy lost his hearing from meningitis when he was three but he didn't lose his determination or talent for playing ball.  William Hoy has been recognized as key to the development of sign language or baseball hand signals for a variety of plays such as bunt, steal, take a pitch, ball, or strike.  Enjoy a step back into baseball history.  The illustrations by Adam Gustavson show baseball and players as they appeared during the early 1900s – handlebar mustaches, classic Cincinnati Reds uniforms, inside panoramas of the old ballparks and even baseball headlines.  Batter up – and enjoy this baseball biography.   Lee and Low, 2012.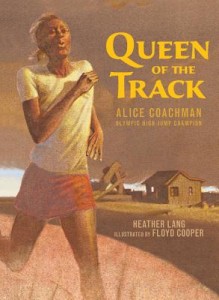 QUEEN OF THE TRACK, ALICE COACHMAN, OLYMPIC HIGH-JUMP CHAMPION, written by Heather Lang and Illustrated by Floyd Cooper
This is a beautiful book. Heather Lang tells the story of Alice Coachman, the first African-American woman to win an Olympic Gold Medal.
"From the very first gold medal I won in 1939, my momma used to stress being humble. You're no better than anyone else. The people you pass on the ladder will be the same people you'll be with when the ladder comes down."
— Alice to New York Times, April 27, 1995
"When the going gets tough and you feel like throwing your hands in the air, listen to that voice that tells you 'Keep going. Hang in there.' Guts and determination will pull you through."
— Alice to The New York Times, April 27, 1995
"It's my wish that every young person read this inspiring book. Alice Coachman is truly a hero and her accomplishments remind us all to never give up when the odds are against us."
—  Jackie Joyner–Kersee, Olympic gold medalist
Published by Boyds Mills Press, 2012.
BEATRICE'S DREAM, A STORY OF KIBERA SLUM by Karen Lynn Williams,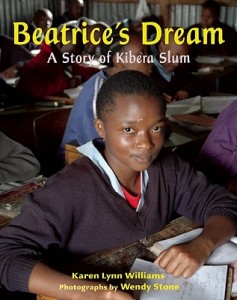 photographs by Wendy Stone
Jambo!  Hello from Beatrice, an orphan, who lives in one of the toughest, poorest slums of Africa in Kibera, Kenya.  "Near the railway track you can look out over the slum and see it stretching on and on to where the earth meets the sky."
Beatrice has a dream.  She wants to become a nurse and help other children who are ill or hurt. She knows that the way to get out of the slums and become a nurse is to study hard at school.
Beatrice's school is made of tin. "When the wind blows, the loose tin on the roof crackles and pops.  Ping. Ping."  Beatrice walks to school every morning and is proud that she will soon graduate and attend boarding school in Nairobi.  It's her dream –and she is making it happen.
The words and photographs bring you to a muddy crowded slum but they also show you the people's hope and courage. Beatrice's warm smile and penetrating eyes reassure you that even if Beatrice's school has few books and many students, she will make her dream a reality.  This is a wonderful book to share with any child.
BEATRICE'S DREAM, published by Francis Lincoln Children's Books, 2011, is included in the 2012 Outstanding International Books List chosen by IBBY, International Board on Books for the Young.