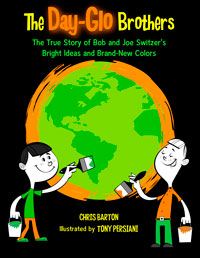 Biographies are more than just books kids "have to" read for a school assignment.  Good biographies show us how people's lives in other times and places can be so different than ours, and yet still give us the sense that we all share common experiences. They can inspire us to live lives larger than we thought we could.
For the youngest readers:
The Day-Glo Brothers: the true story of Bob and Joe Switzer's bright ideas and brand-new colors by Chris Barton, illustrated by Tony Persiani (Charlesbridge, 2009). Bob and Joe Switzer were in their father's drugstore when they discovered that certain chemicals glow under ultraviolet light. With lots of experimenting and some accidental luck, the brothers invented colors that would glow even in sunlight, those neon colors called Day-Glo. It's a "brilliant" story about perseverance, for, as Joe used to say, "If just one experiment out of a thousand succeeds, then you're ahead of the game."
For the transitional readers:
Vision of Beauty: the story of Sarah Breedlove Walker by Kathryn Lasky, illustrated by Nneka Bennett (Candlewick Press, 2000)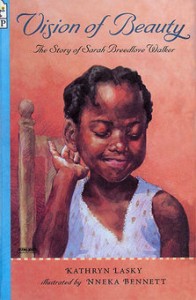 . Sarah was born in 1867 into the harshest poverty, orphaned at the age of seven, married at fourteen and a widowed mother before she was twenty. At a time when colored women had almost no rights or power, Sarah worked to become Madam C.J. Walker, owner of one of the biggest companies in America.  She made products to make African-American women feel beautiful, and hired these women to give them a path toward self-sufficiency. "My object in life is not simply to make money for myself, but to use part of what I make in trying to help others," she said. Sarah Breedlove Walker was a vision of beauty, inside and out.
For the older readers:
My Thirteenth Winter: a memoir  by Samantha Abeel (Scholastic, 2003).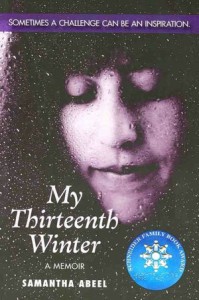 As a teacher, I learned so much from this first-person account of a girl who is both gifted and learning disabled. Samantha writes openly about dyscalculia, a math-related learning disability, and how her strengths in reading and writing helped her hide her areas of weakness. Her struggle to appear "normal" took a toll on her, but good teachers and a supportive family helped her. Samantha's memoir is insightful. It may help students who struggle feel a bit less "other", and it may help all readers to see those who learn differently with a bit more compassion.