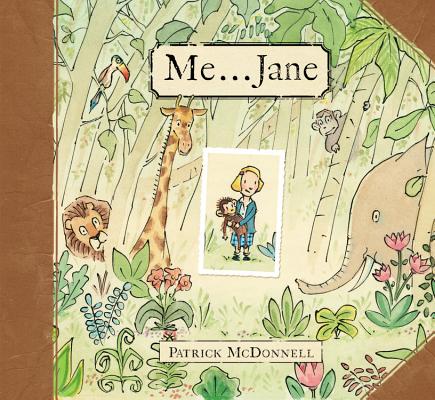 Biographies are more than just books kids "have to" read for a school assignment.  Good biographies show us how people's lives in other times and places can be so different than ours, and yet still give us the sense that we all share common experiences. They can inspire us to live lives larger than we thought we could.
For the youngest readers:
Me… Jane by Patrick McDonnell (Little, Brown & Co., 2011) This is a fantastic biography for animal lovers. Jane grew up watching the spiders, the birds, and the squirrels with her stuffed chimpanzee, Jubilee. She observed, she drew, she climbed trees: "it was a magical world full of joy and wonder, and Jane felt very much a part of it." Jane grows up to be Dr. Jane Goodall, and the photo at the end where Jane's dream comes true is inspiring.
For the transitional readers: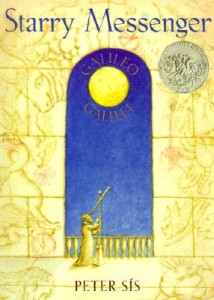 Starry Messenger: a book depicting the life of a famous scientist, mathematician, astronomer, philosopher, physicist Galileo Galileicreated and illustrated by Peter Sis (Farrar, Straus, & Giroux, 1996) The amazing illustrations earned this book a Caldecott Honor, but what nabs readers every time is when I hold up the book and say, "Galileo was locked away for life because he wanted to tell the truth." Sis includes quotes from Galileo himself, and after reading Starry Messenger, I want to grab a telescope to see the "huge prominences, deep valleys, and chasms" Galileo saw on the moon hundreds of years ago.
For the older readers:
Isaac Newton by Kathleen Krull, illustrated by Boris Kulikov (Viking, 2006) I adore Kathleen Krull's biographies, and this title in the Giants of Science series is so fascinating that kids will read it for fun as well as use it for school assignments. "Here was a man with an imagination so large that, just 'by thinking on it,' he invented a new branch of math – calculus – and figured out the scientific explanation of gravity. Yet Newton was so small-minded that he tried to destroy other scientists who dared question his findings." It's a captivating book about an intriguing man.