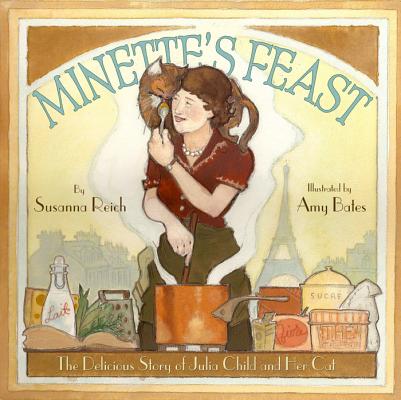 The stories about the lives of real people are fascinating to many young readers. They like to find out who famous people were as children and how they grew up to do the things they became famous for. Or learn about the lives of people they've never heard of but who are a part of their history. All kinds of people are showing up in biographies being published today: artists and dancers, politicians and sports figures, the colorful and the quiet, the famous and the not-so-famous.
This month, we kick off our theme of Biography with author Susanna Reich and her delightful new picture book Minette's Feast: The Delicious Story of Julia Child and Her Cat. With charming illustrations by Amy Bates, Minette's Feast centers around the story of Child's cat during the years she lived in Paris and first became interested in cooking. While her name may not be one that children immediately recognize, they'll be enticed by the story of her persnickety cat as surely as their parents were enticed by her cooking. With lyrical, playful text, Reich, who met Julia Child in the early 1990s, has done great credit to Child's fame and unique story in this enchanting book.
Be sure to follow Susanna's blog tour book giveaway (more info HERE) and stop by next week to read an interview with Susanna!