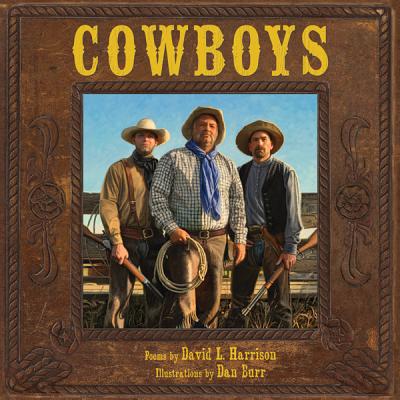 COWBOYS by David L. Harrison and illustrated by Dan Burr, give readers a close look at the tough experience of being a cowboy on the long cattle drives from Texas to Kansas. We follow a variety of wranglers from bunk house to "big-city"Abilene. Starting in 1866, over 40,000 cowpunchers signed on to ride cattle-drive trails, such as Chisholm Trail, working day and night for several months, making less than a dollar a day!   Unfortunately only a few poems and pictures in this collection reflect that most of these cowpunchers were young and either newly-freed slaves, Mexicans or Native Americans. But this book is an engaging and informative unfolding of poems with a punch – some rough and tough, others just plain funny.  Pictures and verse show these wild-west cowboys were often "on a journey of my own figuring how it feels to be free."  (Boyds Mills Press, 2012)
A chapter book in verse! LIKE PICKLE JUICE ON A COOKIE by Julie Sternberg and illustrated by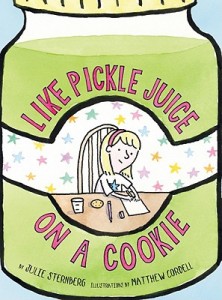 Matthew Cordell
Eleanor, the main character, may be already eight but having her beloved babysitter, Bibi, move away – far away – is much harder than any of the grown-ups realize. Julie Sternberg has captured the feelings of how "little events" feel mighty big when second grade is looming. An Amulet/Abrams (2011) realistic fiction in verse.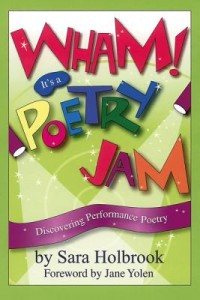 WHAM!  It's a POETRY JAM, Discovering Performance Poetry by Sara Holbrook (Boyds Mills Press, 2002)
"Do not commit your poems to pages alone. Sing them, I pray you."  Virgil, that Roman poet-performer of two thousand years ago who is "still in print!"
Yes, sing these poems and play catch with words. Everyone has fun.  Engage all your students with whamming, singing, foot-stamping poetry JAM! This little book doesn't cost much and is filled with simple ideas that introduce performance poetry in the classroom, at the beach or in your living room.  Instructions are easy. Poems included are short, silly and high-energy.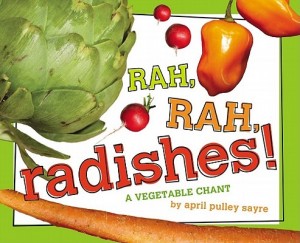 RAH, RAH, RADISHES:  A VEGETABLE CHANT by April Pulley Sayre (Beach Lane Books, 2011) is on many yummy best-of-the year lists including the New York Public Library's  100 Titles For Reading and Sharing 2011 and Kirkus' 100 Best of the Year list.   New and just as fun: GO, GO GRAPES! fruit chant will be released May 2012.