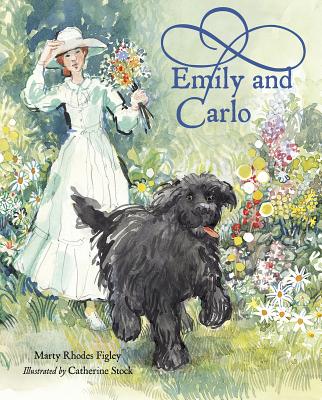 EMILY AND CARLO by Marty Rhodes Figley, illustrated by Catherine Stock (Charlesbridge, 2012)
Uncover another side to beloved American poet Emily Dickinson in this charming picture book about two best friends. With her sister, Vinnie, attending school in a different town and her brother away at college, Emily's dad notices his daughter's sadness and brings home a puppy. With a companion by her side, Emily feels encouraged to explore the world outside her back door. And thanks to the author's creative magic and words from Emily's own poems and letters, the readers are swept up in their journey.  Like Emily's poetry, the illustrations transport us to another time and place. For ages 5 on up.
With the success of the television show DANCING WITH THE STARS many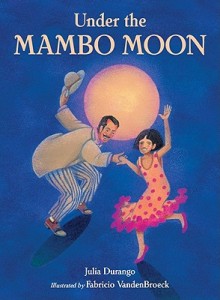 of us were first introduced to the tango, salsa, and samba dances in our homes. But in the book UNDER THE MAMBO MOON by Julia Durango, illustrated by Fabricio VandenBroeck (Charlesbridge, 2011), Durango takes our knowledge of Latin American culture to new heights and readers will be tap, tap, tapping their feet.
On summer nights, Marisol helps out Papi at his music store and meets customers connected with the neighborhood. Her story frames the book while each character comes to life under Durango's rhythmic poems.  VandenBroeck's illustrations rotate between black and white and full-color acrylics. A book to be savored with each read.  For ages 8 to 12.
As Durango does in many of her books, she likes to leave special messages to the important people in her life. Click HERE to find out who the recipients were!