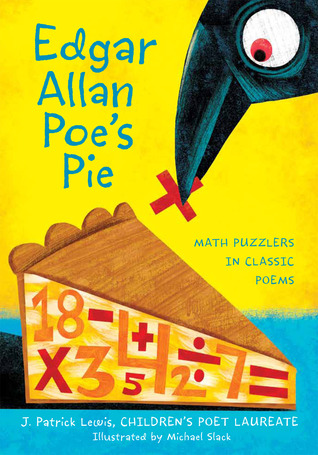 Poetry, in the guise of Mother Goose nursery rhymes, childhood songs, and lullabies, is the first literary form most children hear. Children have a natural affinity for poetry, which is often exhibited in their appreciation for song lyrics, rhyming, and word play.  Check out some of these books to enjoy the beauty and imagery of our wonderful language and to have a good time with poetry.
For the youngest readers:
NURSERY RHYME COMICS: 50 TIMELESS RHYMES FROM 50 CELEBRATED CARTOONISTS with an introduction by Leonard S. Marcus (First Second, 2011) The poetry in this unusual collection will appeal to very young children but parents and older kids sharing the verses will also really enjoy the artistic interpretations of the classic rhymes by some of the best contemporary illustrators and cartoonists. The rhymes are laid out in comic strip or graphic novel format and the collection serves as a who's who of both nursery characters (from Jack Be Nimble and Solomon Grundy to that ubiquitous itsy bitsy spider) and artists (from David Macaulay's architectural skills highlighting London's Bridge to Nick Bruel's "Bad Kitty" interpretation of the kittens who lost their mittens). While most of the rhymes are absolutely on target for the preschool and kindergarten set, the art gives the book a wider audience, including older readers who may believe they have outgrown Mother Goose.
For the transitional reader:
THE ARROW FINDS ITS MARK: A BOOK OF FOUND POEMS edited by Georgia Heard with illustrations by Antoine Guillope (Roaring Brook, 2012).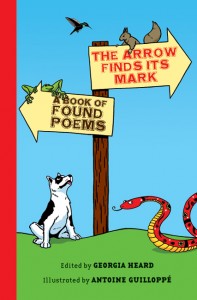 Found poetry is exactly what the name implies: poetry that is created from words and phrases seen in the world around us. This is particularly fun for kids who are new readers because they instinctively notice words in their environment and are eager to read them aloud. In this collection, thirty poets use sources that range from crossword puzzles to signs and advertisements, and even Twitter postings to create verse. J. Patrick Lewis uses the NBA directory to write a sports poem based on basketball player's nicknames that will appeal to young fans. While it looks simple, found poetry is not as easy as it may sound, requiring the poet to identify appropriate sources and select the right words, then re-order the words to create a pleasant, lyrical verse. Youngsters reading this book will be inspired!
For older readers: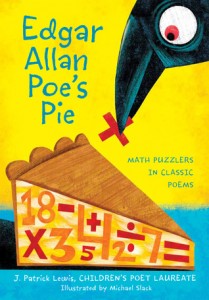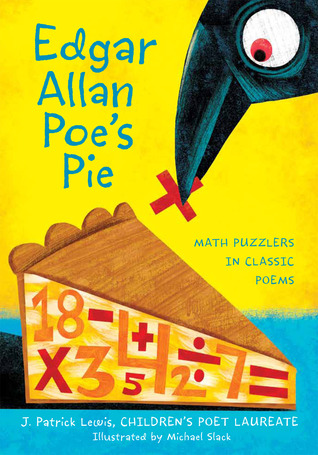 EDGAR ALLAN POE'S PIE: MATH PUZZLERS IN CLASSIC POEMS by J. Patrick Lewis and illustrated by Michael Slack (Harcourt, 2012) Lewis is the current U.S. Children's Poet Laureate and the themes of his poetry cover an amazingly wide range of topics and poetic styles. He is as proficient at writing riddles as he is at creating haiku. In this book, he combines parodies of classic poetry with math. This seemingly odd combination is further skewed by whacky illustrations that will attract readers. The clever text is sometimes simple enough for younger readers but older kids who may already be familiar with Edward Lear, Edgar Allan Poe, Walt Whitman, and the other poets who are parodied here will have a greater appreciation of the humor. And the math is fun to figure too! (When an elephant sat down to order / A half of a third of a quarter / Of an eighty foot bun / And a frankfurter, son, / Was it longer than three feet or shorter?) The book ends with brief biographies about the classic poets.