Poetry, in the guise of Mother Goose nursery rhymes, childhood songs, and lullabies, is the first literary form most children hear. Children have a natural affinity for poetry, which is often exhibited in their appreciation for song lyrics, rhyming, and word play. Somewhere between infancy and elementary school, teachers and parents usually stop sharing poetry with kids leading to the assumption that kids don't like poetry. Actually they often love reading and hearing poetry; what they don't like is memorizing, reciting, and analyzing it.
Poetry comes in many forms, from the structured haiku (17 syllables arranged in lines of 5, 7, and 5) to the magnificently arranged shapes of concrete poetry, which conveys the meaning of the poem through the graphical arrangement of the words. The theme of a poem can be serious or silly, providing food for thought or a rip-roaring howl. In each case the poet has carefully chosen words and the way they are arranged to elicit a feeling. And remember, not all poetry has to rhyme! Check out some of these books to enjoy the beauty and imagery of our wonderful language and to have a good time with poetry.
BUG OFF!: CREEPY, CRAWLY POEMS by Jane Yolen with photographs by Jason Stemple (Wordsong, 2012) Kids love bugs but young poets often fail to venture beyond the itsy bitsy spider. Noted poet Jane Yolen takes on some of the most familiar, and sometimes repulsive bugs. From the disgusting fly who will "bring me grief / as you're a vector of disease" to the painted wings of the butterfly, there is a creepy crawly critter to delight every young reader. Each humorous poem is accompanied by a close-up photograph by Jason Stemple, Yolen's talented son. Older readers or the parent who is sharing the book with a young child will appreciate the facts about each bug that are provided on the page. Kids will be itching to read more!
For the transitional readers: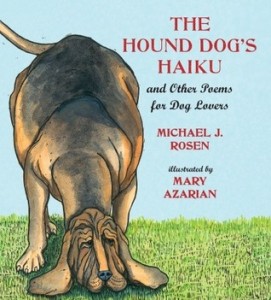 THE HOUND DOG'S HAIKU and OTHER POEMS FOR DOG LOVERS by Michael J. Rosen and illustrated by Mary Azarian (Candlewick Press, 2011) It's well known that I'm a sucker for dog books and this book provides a wonderful mix of dogs and poems. Twenty great breeds (albeit not the breed I love best!) are introduced and Rosen's poetry, which is a mix of unrhymed poetry and haiku, shows off something about each type of dog. The text is filled with fun word play and the short passages capture the essence of each dog. For example, "Samoyed / giant pink curled snail: / tongue races across black lips / nothing beats that smile." reflects the characteristics of the hardy working dog known for its bright smile and loving face. The poetry is enhanced by the beautiful woodcut prints created by Caldecott-award winning illustrator Mary Azarian, each covering two pages and picturing the specific pooch. For readers who want to know more, notes at the end of the book explain more about the dogs.
For the older readers:
JULIE ANDREWS' COLLECTION OF POEMS, SONGS, AND LULLABIES selected by Julie Andrews and Emma Walton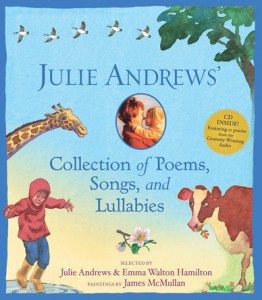 Hamilton and illustrated by James McMullan (Little, Brown, 2009) Every home library should have at least one collection of poetry that has a little something for everyone and serves as a tool for spontaneous poetry moments. This collection offers more than 150 poems and the diversity in selections range from classics by Walt Whitman and well-known blessings to modern favorites by Shel Silverstein and Jack Prelutsky. Illustrations highlight the poetry, often washing the page behind the text in rich watercolors. Andrews introduces each of the nine themed sections with a personal memory and the thematic arrangement makes it easy to pick something appropriate for every reading occasion. Right now celebrate Spring with "April Rain Song" by Langston Hughes!
Check back here for Part II of April Rhyme Time poetry recommendations next week.
And don't forget to enter our (Author-In-Residence) Kate Coombs' giveaway.  You won't want to miss a chance to win her newest book, WATER SINGS BLUE! Learn more HERE.