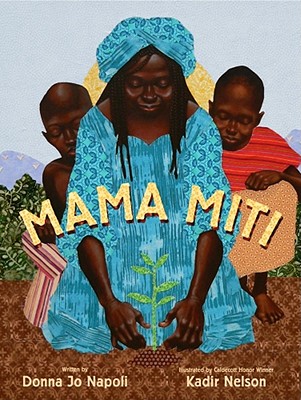 "Plant a tree!"
Celebrate spring. Share the activity of planting a tree and reading this book:  MAMA MITI by Donna Jo Napoli, illustrated by Kadir Nelson.  Mama Miti is the beloved name of Wangari Muta Maathai the first African woman to win the Nobel Peace Prize – just one of Mama Miti's many "firsts."  This book is a remarkable poetic journey across the green belt of Africa with Mama Miti as she describes the many ways that specific trees keep people alive, nourished and well.  Trees give us fresh air, clean water, wood for cooking, heating and building.  Trees give us fruit and flowers to surprise us, bring out smiles and fill our stomachs with sweet delicious delights.  A note from the author, Donna Jo Napoli, provides information about what we each can do to plant trees and make peace.
Thayu nyumba — "peace, my people!"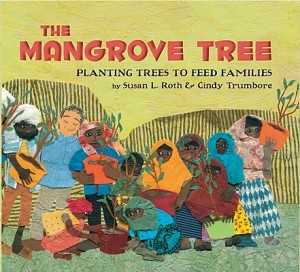 Another award-winning book, THE MANGROVE TREE: PLANTING TREES TO FEED FAMILIES invites readers to discover how trees – mangrove trees – can change a starving village into a healthy prosperous community.  Susan L. Roth and Cindy Trumbore successfully combine verse and prose with illustrations by Susan.  This 2012 Green Earth Book is written for the early elementary reader.  Both books are thoughtful ways to celebrate with children the arrival of spring.