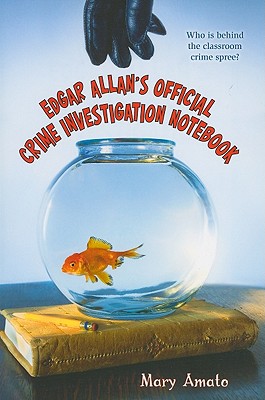 EDGAR ALLAN'S OFFICIAL CRIME INVESTIGATION NOTEBOOK by Mary Amato
Poetry and mystery come together in this short chapter book for middle grade readers about a fishnapping in Ms. Hershel's 5th grade classroom. Edgar Allan is determined to solve the case with the help of his crime investigation notebook. There, he'll record his theories and the clues he uncovers (including the poetry the bandit leaves each time he swipes another item from the classroom) in an attempt to beat out his rival and all around know-it-all, Patrick Chen.
To make matters worse, Patrick has an advantage – his dad is a forensic specialist. And Edgar's parents? They won't be a bit of help. They work in the Clown Care Unit at Children's Hospital! Edgar knows if he's if he's going to solve the case, he's completely on his own. What he doesn't realize is how one small fishnapping, mysterious poetry messages, and a group of 5th graders can teach him the secret of a lifetime – the true meaning of friendship.
BALL PARK MYSTERIES: The Astro Outlaw by David A. Kelly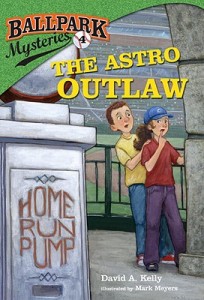 In this fourth book of the series, Mike and Kate find themselves in the middle of another Ball Park Mystery. This time, it's spring break and the two kids have joined Kate's baseball scout dad on a trip to Houston. They've been given free tickets to a tour of NASA's Johnson Space Center and, later that evening, they'll take in an Astros game. But when Commander Rice, the astronaut they met at the Space Center and who's throwing the first pitch, signing autographs, and sharing a valuable moon rock, turns up missing, Mike and Kate can't rest until they've found him and recovered the stolen rock!
Read about two other Ball Park Mysteries in a ReaderKidZ post HERE.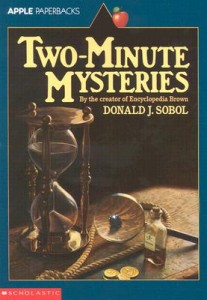 TWO-MINUTE MYSTERIES by Donald J. Sobol
Kids hoping to test their own sleuthing skills will enjoy Two-Minute Mysteries by the author of the well-known series, Encyclopedia Brown.
Seventy-nine short, 2-page mysteries are filled with clues for the discerning reader. With crimes such as, "The Case of the Dead Professor," "The Case of the Hotel Murder," and "The Case of the Open Door," readers can match wits with Dr. Haledjian, master detective. Answers are provided at the end of each case for those who need a little extra help!
THE CLUE IN THE CLUBHOUSE (Pony Mysteries) by Jeanne Betancourt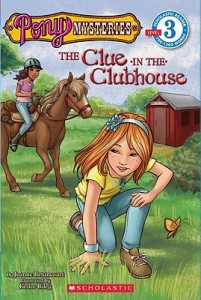 Mama's lost her keys. Where could they be? Join Penny, her pony Pepper, and her friends Tina and Tom as they build a clubhouse and solve a mystery!
This Level 3 "Growing Reader" text is perfect for young readers ready to bridge to very short chapter books. This second in the series serves as a comfortable introduction to the genre.