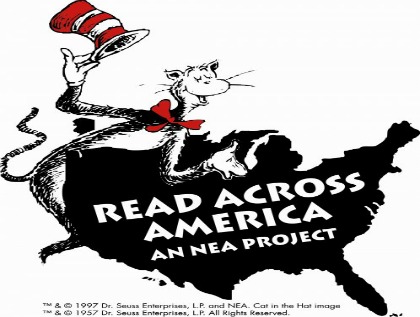 It's Read Across America Day, and classes all over the country will be celebrating Dr. Seuss's birthday by sharing their love of reading. In honor of the day, Sylvan Dell Books is offering free access to all their ebooks. Here's the info from the publisher:
"Sylvan Dell Publishing will be participating in Read Across America Day by offering all of its award-winning eBooks FREE to read at www.sylvandellpublishing.com on March 2.  Participants will have access to Sylvan Dell's full eBook Site License including eBooks with auto-flip, auto-read, and selectable English and Spanish text and audio. This is in addition to the free activities available every day including a "For Creative Minds" educational section, 40-70 pages of free teaching activities, three quizzes, and a related websites page for each title."
It was a special treat last week to read aloud and discover my students' enthusiasm for THE GREAT DIVIDE by Suzanne Slade, illustrated by Erin. E. Hunter (Sylvan Dell, 2012).  I honestly wasn't sure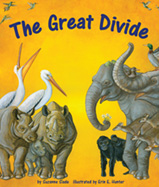 what their reaction would be. True, we'd been focusing on division for several weeks, so the students had quite a lot of background knowledge. And a number of the children had already passed the grade-level  division timed tests. But how would they react to a rhyming text that included not only a simple division problem, but that also aimed to  introduce the collective noun (animal group) names of each species mentioned?
The kids enjoyed the book immensely! They were completely engaged with the text and with each new page, were anxious to call-out the answers. Together, we marveled at the interesting animal group names, and wondered about the origin of some of the more unusual names. Today, we'll take advantage of Sylvan Dell's free e-book offer and check out Suzanne Slade's companion book about multiplication, MULTIPLY ON THE FLY.