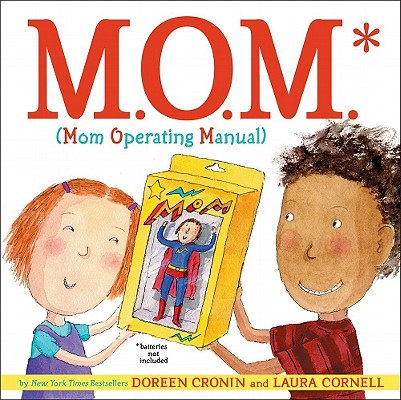 There's nothing quite like a laugh shared between a parent and her child, a teacher and his students, or a librarian and a class of eager listeners. This week's Book Room features funny books that will have kids and adults laughing out loud. What's more? Each of these books structure their stories in non-traditional ways. Want children to write a how-to manual? Check out M.O.M. for some great inspiration. Looking to practice dialogue using speech bubbles? Take at look at YOU'RE FINALLY HERE, THE VOLE BROTHERS, and HAPPY PIG DAY!
M.O.M. (Mom Operating Manual) by Doreen Cronin, illustrated by Laura Cornell
Doreen Cronin is no stranger to books that bring on the giggles. A peek at two of her better known books –  DIARY OF A WORM and CLICK CLACK MOO – are proof enough that Cronin knows exactly how to turn a story on its head and fill it with laughter. M.O.M is no exception. Case in point, the: "Introduction: It is widely accepted that mothers are the most advanced human models on the planet. They are capable of superhuman energy, strength, patience, and creativity. They come in many shapes and sizes…
Check out the hilarious book trailer HERE.

YOU'RE FINALLY HERE by Mélanie Watt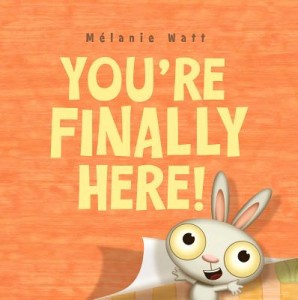 Mélanie Watt is another author whose books are sure to charm the giggles out of even the most reluctant readers. This author of SCAREDY SQUIRREL and CHESTER THE CAT knows how to find the humor in the everyday.
What child hasn't experienced the agony of waiting for a special friend to arrive? Sometimes the waiting can feel endless, can't it? But then the friend finally arrives and the celebration begins! Or it will, but not until the big question " Where were you?" is answered to humorous effect.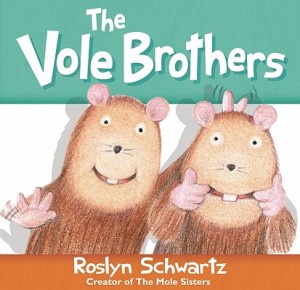 THE VOLE BROTHERS by Roslyn Schwartz
The Vole Brothers are hungry. They've got a plan to outwit the cat and fill their tummies with yummy pizza. Unfortunately, they aren't the only ones feeling ravenous. With humor and plenty of silly antics, the Vole Brothers make sure they get a piece of the action and the (pizza) pie! Check out a video of Roslyn Schwartz talking about her latest title HERE.
HAPPY PIG DAY! by Mo Willems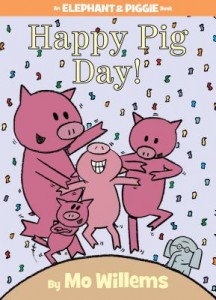 It's Happy Pig Day and Gerald wants to celebrate with his good friend, Piggie. But how can he? He's the wrong color, has the wrong kind of nose, and doesn't have hooves! What could be worse? To top it off, he can't even say "Oinky! Oink! Oink!" Fortunately, Piggy has the perfect solution and before long, Gerald is happily celebrating Pig Day with the rest of Piggie's friends.