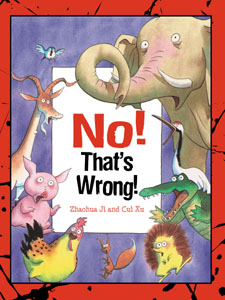 Warning: these book suggestions contain underwear, talking origami, space cats, and other weird things that kids find funny. If the idea of a crocodile wearing red underpants like a mask is offensive to you, I suggest you look away. If the idea makes you giggle, read on!
One of the fastest ways to a kid's reading heart is through the funny bone. Here are some of my favorite humorous books to hook even reluctant readers:
For the youngest readers:
No! That's Wrong by Zhaohua Ji and Cui Xu (Kane/Miller, 2008) For so many kids, there's nothing funnier than underwear, especially when it's on someone's head! A rabbit finds a pair of underpants, and he immediately puts them on. "It's a hat!" "No, that's wrong. It's not a hat," says the unseen narrator. To prove it's a hat, the rabbit tries the underwear on the head of an elephant ("I think it's too small") and a chipmunk (who declares "what a fabulous hat!" even though it's covering his entire face). No matter how many times the narrator tries to explain that the underwear is not a hat, all the animals insist on putting it on their heads.  Finally a donkey shows a book of people wearing underpants in the "traditional" way, but when rabbit squeezes his cottony tail into the underpants, all the animals laugh at him for wearing a hat on his tush. Rabbit decides to keep enjoying his wonderful hat, and the endpapers show the animals all decked out in clothes worn in unusual ways. So wrong, it's right!
Guess Again! written by Mac Barnett and illustrated by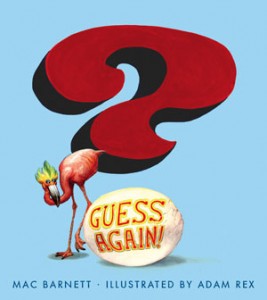 Adam Rex (Simon & Schuster, 2009) With shadow figures and rhyming riddles, Barnett and Rex set kids up and then delight them with unexpected ridiculousness.
"Who's furry, scurries, and has fleas?
Who climbs our counters and eats our cheese?
We've set up traps all through the house
But still can't catch that pesky" (turn the page as the kids are all calling out "mouse!")
"Viking!"
Every page turn gives a nonsensical answer to a rhyme and reveals how a figure on the previous page is not what we thought it was. Readers will enjoy Guess Again! again and again and again!
For the transitional readers: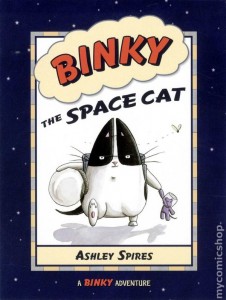 Binky the Space Cat by Ashley Spires (Kids Can Press, 2009) This graphic novel is the first in an addictive series about Binky. "Unlike your average cat, HE has a purpose. His mission is to one day blast off into outer space… to explore unknown places… and to battle alien creatures." It's a brave plan for a cat that has never been outside. To Binky, his house is a space station, and all that is outside his house is "outer space". This works for the learning-to-read kids as well as independent readers.
Down Girl and Sit: Smarter than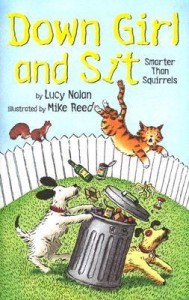 Squirrels written by Lucy Nolan and illustrated by Mike Reed (Marshall Cavendish, 2004) Down Girl and Sit are two very smart best friend dogs, smarter even than squirrels. "You never see a dog in a tree, do you? That's because dogs are smart. We know it would hurt to fall out." Every morning, Down Girl wakes her master, Rruff an hour before his alarm clock goes off and scares him, that's how smart and thoughtful she is. But when Here Kitty Kitty moves onto their street, Down Girl and Sit must use all their dog smarts to protect their masters' backyards from intruders. Short chapters punctuated with illustrations make this good for new-to-chapter-book readers.
For the older readers: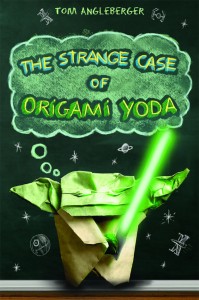 Strange Case of the Origami Yoda  by Tom Angleberger (Amulet, 2010) With its many doodles, first-person voice, and middle school setting, this will often be compared to Diary of a Wimpy Kid, but I liked it way better. Tommy and his friends are trying to figure out if the origami Yoda that Dwight wears on his finger is really dispensing wisdom, or if it's just Dwight being quirky . I liked the characters as they took turns telling their version of events, and I love how Yoda gives realistic kid advice (when Kellen gets water in an awkward place on his pants at school, Yoda tells him "Wet all you must" because sitting in class with soaking wet pants is, to many kids, preferable to looking like you have bladder control issues). There are instructions at the end for making your own origami Yoda, and the sequel is already out: Darth Paper Strikes Back. For fifth graders, this is a funny, fast read.