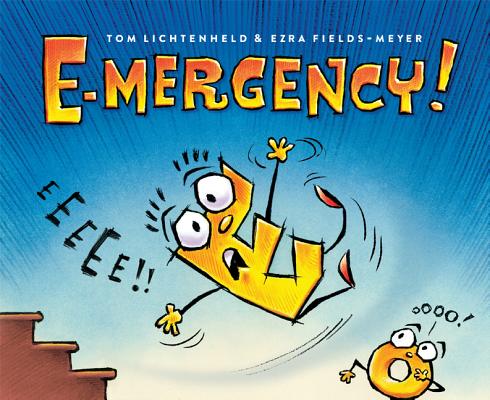 Chronicle Books has created some super supplemental material to support the cleverly hilarious picture book, E-mergency!  – some great lessons and activities designed to keep a child engaged in the story for a very long time. And, as studies show, the longer a child is engaged in stories,  letter recognition and comprehension skills are developed. E-mergency! just might be the book that inspires a child to become a full-fledged reader. Now, wouldn't that be grand?
The Teacher Guide created to compliment E-mergency! is packed with fun activities such as Baffling Bingo, Grabbing Acronyms, and Punny Language – all focused around the compelling question, "What happens when the most important letter of the alphabet gets a big owie?" Zany letter recognition fun is continued when kids act out the Readers' Theatre script where Letter Y asks, "So no one can use E, including us?" To which Letter A answers, "That's right. Starting right now, it's O instead of E. That's it PORIOD." And, to Tool Box top things off, become hooked by watching the endearing YouTube video where the entire alphabet – heck, the whole world – laments Letter's E's injured status.
To quote the Readers' Theatre narrator, "The alphabet then alerted the media that E was "injured" and could not work. What will happen to the newspapers, signs, and even the lunch menus without E?" You'll have to read E-mergency! to find out for yourself.