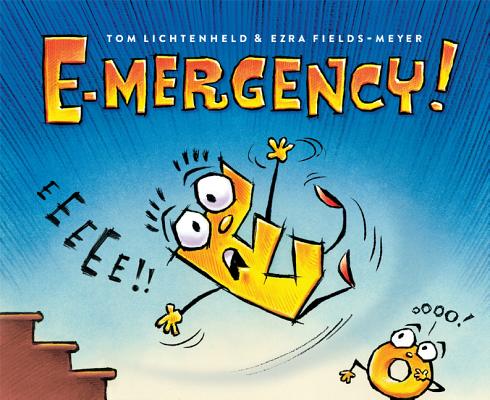 Children love to laugh. Tickle a little girl and she'll laugh uproariously even as she begs for mercy. Give a boy a funny book and he'll laugh every time he reads it, again and again and again. Humor provides the same relief for children that it does for adults: it's an affirmation that even though life is often weird and embarrassing and, yes, disgusting, it can be handled if you look at the silly side of things, and can laugh.
This month, we welcome Tom Litchtenheld, author and illustrator of the incredibly funny, E-MERGENCY! This zany book is chock-ful of jokes and laughs galore. Readers will find themselves giggling out loud as the Alphabet tries to make do without E after she has an unfortunate fall. "Why isn't E even crying?" the other letters want to know.  "Sometimes she's a silent E." Children and adults will enjoy uncovering the multitude of clever puns, word plays, and visual jokes.
Can a story about the letter E's road to recuperation possibly be that wonderful? Yes, yes it can. Roading is bolioving.
Read "What's Your Story, Tom Lichtenheld?" HERE.
For more about Tom, visit his website HERE.