From magical chalk to wizards to monsters that will eat your peas for you, the term "fantasy" covers a wide range of children's books. If your kids are learning about genres in school, at some point they'll be looking for a good fantasy.  What else is there besides Harry Potter? Plenty!
For the youngest readers:
Chalk by Bill Thomson (Marshall Cavendish, 2010) Oh, Bill Thomson, your photo-realistic art gets me every time. This is a gorgeous wordless picture book. I love that the illustrations fill the entire spread – for group read-alouds or one-on-one, readers feel like they're falling into the scene. Thomson's chalk takes Harold's purple crayon to the next level. Whatever is drawn, comes to life. So, if a kid draws a dinosaur….! Wordless books are especially good for readers learning English as a second language. The story can be in whatever words they choose, and all are successful readers.
Doodleday by Ross Collins (Albert Whitman & Co., 2011) Mom warns Harvey not to draw on Doodleday, but Harvey just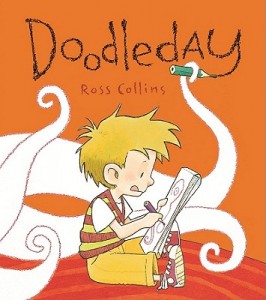 can't resist. His doodles come to life, and he doodles bigger and bigger things to stop his creations. In the end, a doodle of Mom puts everything right. It's so fun to compare Doodleday with Chalk, or the classic Harold and the Purple Crayon by Crockett Johnson, all stories where drawings come to life. These are great fantasies for the picture book crowd. Just make sure to have plenty of art supplies on hand once the stories are done!
For the transitional readers: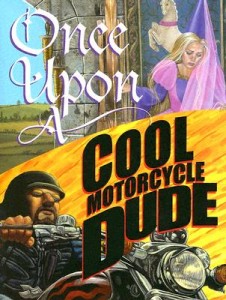 Once Upon a Cool Motorcycle Dude written by Kevin O'Malley and illustrated by Kevin O'Malley, Carol Heyer, and Scott Goto (Walker & Co., 2005) This is the perfect book to show that picture books aren't just for the little guys. A boy and a girl make up a story to satisfy a school assignment, and they take turns telling what happened. "Every day Princess Tenderheart would play with her eight beautiful ponies…" the girl begins, until a horrible giant starts to steal the ponies. Princess Tenderheart cried and cried until the boy interrupts "I can't take it anymore. I'll tell the story from here." Along comes a cool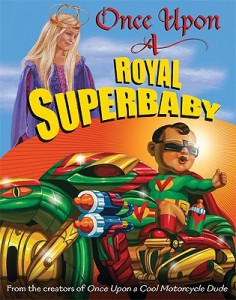 motorcycle dude to save the day, until the girl jumps in to have her say in the story. I love the collaborative storytelling by the kids in the book, and the ending leaves the door open to the sequel, Once Upon a Royal Superbaby by the same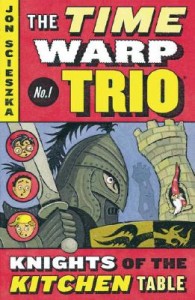 team.
Knights of the Kitchen Table written by Jon Scieszka and illustrated by Lane Smith (Viking, 1991) This is the first book in the Time Warp Trio series. Joe gets "The Book" from his magician uncle for his birthday. When Joe and his buddies, Fred and Sam, open it up, mist rises and suddenly the boys are face to face with The Black Knight. With short chapters, cool illustrations interspersed, and plenty of action, this is great even for kids who don't love reading chapter books. The adventures continue in this series with titles like: Your Mother Was a Neanderthal, Summer Reading is Killing Me, and 2095.  A spin-off television series and the tie-in graphic novels will bring more fans to this fold.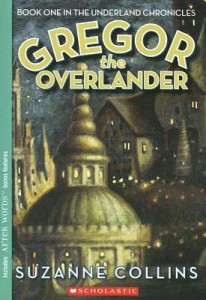 For the older readers:
Gregor the Overlander  by Suzanne Collins (Scholastic, 2003) Before there were The Hunger Games, there was Gregor. This is the first in a five-book series by the author of the popular Hunger Games trilogy. It's perfect for upper elementary and middle school kids who want action and adventure but aren't ready for the author's other series. Gregor sees his toddler sister, Boots, fall down a grate in their laundry room and follows her down to a city below the one he lives in, a city populated by giant rats, cockroaches, and bats as well as humans. His quest to save his sister and himself becomes entangled with the fight raging between the rats and the humans as he learns that he may be the Overlander a prophecy has foretold could change the fates of them all.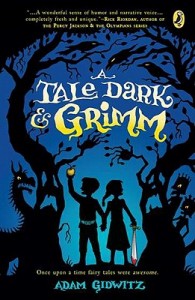 A Tale Dark and Grimm by Adam Gidwitz (Dutton, 2010) This one is so deliciously dark, even your most jaded thrill-seekers will be drawn in. Gidwitz takes Hansel and Gretel and sends them down a dark, winding path through the old Grimm stories. In the author's words: "a word of warning: Grimm's stories – the ones that weren't changed for little kids – are violent and bloody… so if such things bother you, we should probably stop right now." Not scary enough to cause nightmares, just slightly shivery served with a bit of tongue-in-cheek humor. I'll guarantee that most fourth and fifth graders will be hooked.