On January 23, 2012, millions of people around the globe will be celebrating the arrival of the first new moon of the year, a celebration known as Lunar New Year or more commonly, Chinese New Year. It is a time where families and friends gather to enjoy feasts and festivals with fireworks, dragons, and lanterns. A time to welcome in a new season of hope and promise. Whether or not you celebrate this holiday, the stories found in the following books are worth celebrating. Gong xi-gong xi! Xin-nian Kuai le! Happy New Year!
BRINGING IN THE NEW YEAR by Grace Lin (Knopf Books for Young Readers, 2008)
A charming read aloud that jumps to life with bright illustrations and lively prose. Follow one Chinese American family as they experience bringing in the New Year with traditions that promise hope, happiness, prosperity and friendship. Sweep out the old year. Get-rich dumplings. And wake the dragon! Parents and educators will find an informative author's note in the back matter brimming with extras.
A NEW YEAR'S REUNION: A CHINESE STORY by Yu Li-Qiong, illustrated by Zhu Cheng-Liang (Candlewick Press, 2011)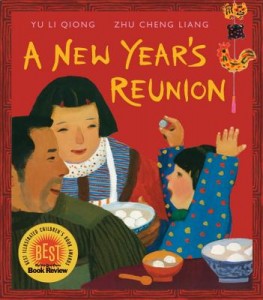 Maomao's father works away from home and only comes home at Chinese New Year. There's so much to do when he arrives home and at first, Maomao doesn't recognize him until a barber gives him a haircut. Then Maomao and her parents carry out New Year traditions like—making sticky rice balls, listening to the "pop" of fireworks, and watching the dragon dance on Main Street.  After a week of memories, Maomao's father must return to work again but not before Maomao gives him a "good luck" gift that she hopes they can bury together—next Chinese New Year—in the rice balls. Winner of the prestigious Feng ZiKai Chinese Children's Picture Book Award in 2009, this poignant story is sure to resonate with every child who misses a loved one. The Illustrations will touch your heart.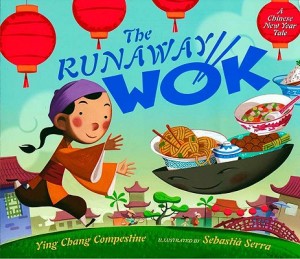 THE RUNAWAY WOK by Ying Chang Compestine, illustrated by Sebastia Serra (Dutton Children's Books, 2011).
Young Ming is sent to the market in Beijing to trade eggs for rice so his mother can make a dish for the Chinese New Year's feast but instead he comes home with a rusted old wok. As the family worries what they'll eat for dinner, the wok promises Ming's mother that if she'll give him a spit and polish, he'll return the favor and bring back enough treats for the neighborhood to share. Will the magic wok deliver on his promise or will the poor families of Beijing have nothing to eat for Chinese New Year? Humorlessly crafted by Compestine and vibrantly illustrated by Serra, The Runaway Wok is a delightful original folktale loosely based on Robin Hood. An author's note provides insight into the inspiration for the story as well as a Stir-fried Rice recipe. Yum!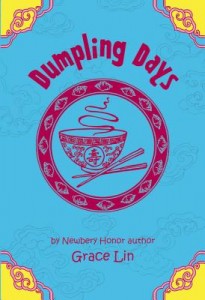 For readers looking for "meatier" reads, try Grace Lin's newest novel Dumpling Days (Little, Brown Books for Young Readers, 2012) or The Year of the Dog (Little, Brown Books for Young Readers, 2005). They have just the right blend of Chinese New Year traditions mixed with hilarious antics from Paci Lin and her sisters. Stories about friendship and family that readers will treasure!