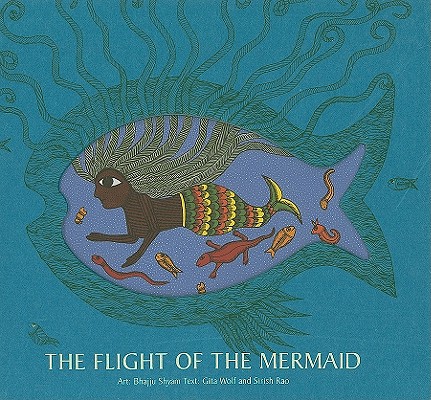 Tales of fantasy and adventure ignite the imagination. The following books take us from Denmark to India and then on to Russia.  We re-see stories through several sets of eyes:  illustrations vary but the love of adventure remains universal.
THE FLIGHT OF THE MERMAID with art by Bhajju Shyam text by Gita Wolf and Sirish Rao. This exquisite book was created by Tara Books, a worker-owned independent publisher based in Chennai, India, 2009.
This book combines the story-telling magic of Hans Christian Andersen with a most unusual and pleasing form of illustration done in the traditional style of the Gond Tribes. The result is amazing and will intrigue both older readers and child listeners.  The worlds of sea, land, and air are interwoven. Look closer. Discover more. The story presents in metaphor several classic human dilemmas:  what is the cost for going against cultural norms?; how does one choose between two worlds or two cultures?  What is more important, love or independence?
A word about Tara Books from India – they are beautiful  –  the feel of the paper, the detail of design, even hand-stitching of the bindings!  These books present English classics through a different set of eyes.
For a chance to win a copy of THE FLIGHT OF THE MERMAID, simply contact Nancy via her website by clicking HERE. Be certain to type MERMAID GIVEAWAY in the subject line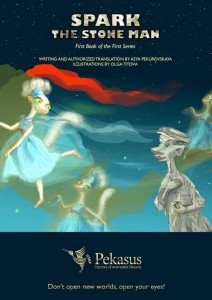 SPARK THE STONE MAN  written by Asya Pekurovskaya, illustrated by Olga Titova, was published by Pekasus, Factory of Animated Dreams, 2011. It is the first of a six-book series that combines old world story-telling with modern graphic illustrations. Spark, the young hero, is torn between two worlds, Granite Mountain and Lemon Drop Valley.  The reader follows Spark into a mixed-up reality. Similar to Alice's experience in Lewis Carroll's Through the Looking Glass, Spark must figure out – what is real, what can he change or even control? , where is he going?  The reader is soon aware that "something is very wrong here."
A few words about the author and illustrator: Asya Pekuroyskaya, the author of this fantasy series, was born in Leningrad (now St. Peterburg), Russia. She received an M.A. in literature from Leningrad University and then completed a doctoral program in literature at Stanford University.
Book illustrator, Olga Titova, is an animation illustrator who has produced a number of animation films. For her contribution to "Canterbury Tales" she received the British Academy Award and was nominated for an Oscar. She lives and works in Moscow.