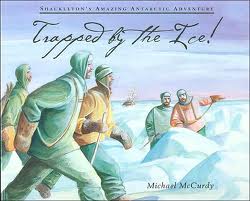 To compliment the earlier Book Room post featuring Trapped by the Ice, written and illustrated by the talented Michael McCurdy, access the following links for a multi-sensory re-enactment of the perils that transpired when Sir Ernest Shackleton sailed the ship, ironically called the Endurance, across the frigid waters of the Antarctic. Kodak.com has compiled an incredible slide show featuring original photographs to tell the tale of a ship crushed in an ice pack and the unbelievable two-year survival of a crew of 28 men.
You might like to access Nova's on-line edition of Shackleton's Voyage of the Endurance which is complimented by a cross-curricular Family Guide and Teacher's Guide.  Or study the chilly vocabulary of survival compiled by The Davis School District in Farmington, Utah.
Anyway you chip away at it, Shackleton's icy story is unforgettable!