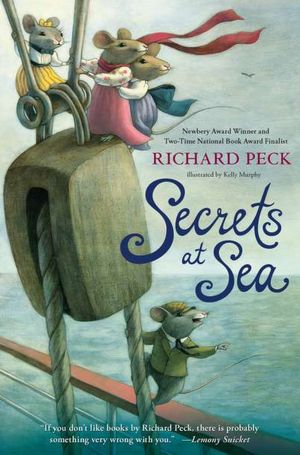 Happy New Year! January 2012 at ReaderkidZ is all about FANTASY and ADVENTURE.
ReaderKidZ is proud to present RICHARD PECK as Author-in-Residence this month. His latest novel, SECRETS AT SEA, is a fantastic adventure involving charming corseted matchmaking mice aboard a great ocean liner due to reach England in time for Queen Victoria's Diamond Jubilee in 1897.
The mice live with the wealthy, but comic and all-too-human Cranston family, headed for London to find suitable matches for their two daughters.  Mrs. Cranston in particular says all the wrong things with, as described by one passenger, "a voice like the cawing of a crow." The mice sisters, Helena, Beatrice and Louise, and their pesky brother Lamont, hate water, but loyally accompany their human family tucked away in their steamer trunks. Helena and her siblings work feverishly behind the scenes, relying on every rodent social connection they can muster to compensate for the clumsy Cranstons, and match-make for the deserving Cranston girls. It all unfolds amid a swirl of romance and royalty, ball gowns, the ship's cat, and many coursed-meals, whether with humans at the Captain's table or at the mice's yardstick table on thread spool seats.
To the reader's happy satisfaction, mice and humans both find plenty of adventure at sea. Best of all, Peck's trademark dry humor and sly sense of fun are in full play on every page.
Read What's Your Story, Richard Peck? HERE.
For more about Richard, visit his publisher's site HERE.