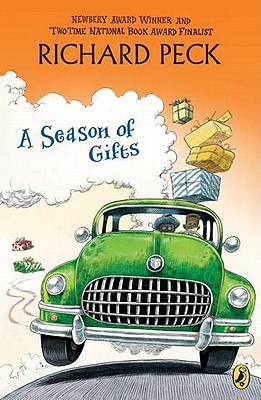 Today, our final day of giveaways, we have two more gifts for visitors to ReaderKidZ! The first is a free book app download for iphone and ipad users (courtesy of Ruckus Media Group) of the classic children's story, THE VELVETEEN RABBIT, written by Margery Williams, illustrated by David Jorgensen, and told by Meryl Streep. Click HERE to access this timeless story for FREE until Christmas Day.
The second is a middle grade book recommendation which captures the spirit of the season.
SEASON OF GIFTS by Richard Peck (Dial 2009)
It's 1958 and the new preacher and his family—including Bobby, the eleven year-old narrator, seven year-old Ruth Ann, and high school freshman and Elvis-fan Phyllis—move in next door to Grandma Dowdel. She's "older than dirt." Bobby notes of her, "She was not only real cranky, but well-armed." For a woman who "doesn't neighbor," Mrs. Dowdel helps each member of the struggling Barnhart family in significant ways through the holiday season. She gives anonymously, with no hesitation, from the heart, to those in need, with no expectation of reward, and plots and executes brilliantly. Yes, Grandma Dowdel steals from other people's gardens and plays all the small town's comic residents off each other mercilessly, but her heart of gold shines bright.