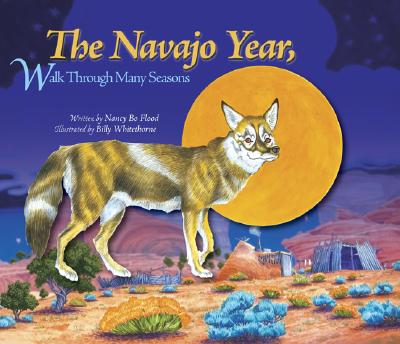 Our Holiday Countdown is nearly to an end.  What fun it has been to send to readers many of our favorite books and art.  Soon our holiday attentions will turn to the New Year.
NAVAJO YEAR, WALK THROUGH MANY SEASONS invites you to step into contemporary Navajo life in the desert.
For the Navajo people, the traditional new year begins in October, Ghaaji', when  "Yellow summer meets white winter.  Summer stops, goes back.  Winter continues on.  Ghaaji'  A new year begins."
NAVAJO YEAR, WALK THROUGH MANY SEASONS highlights the games and activities of children during each season of the Navajo year.  In November, listen to stories and watch string games. In July get ready for rodeo and pow-wows. During each season, watch out for that old trickster Coyote.  His stomach is empty and growling, ready to be filled with a few tasty desert treats.
Billy Whitethorne, illustrator, brings to the page the landscape of the high desert and Red Rock Colorado Plateau.  Art has always been a passion in Billy Whitethorne's life. He would properly introduce himself by stating his clans: he belongs to the Lók'aa' dine'é (Reed People) and is born for the Hashk'àà hadzohí (Yucca Fruit).  Billy includes surprises in his paintings, including hidden pictures.
For a chance to receive this book, please click HERE to email your name and address to Nancy Bo Flood with ReaderKidZ Book Offer in the subject line.
A very happy New Year to all!  Nancy Bo Flood