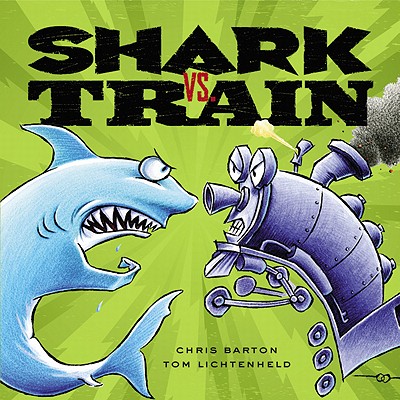 Sign up to win a copy of one of the most imaginative, competitive,  and off-the-wall delightful picture books of all time – Shark vs. Train – written by award-winning Chris Barton and illustrated by show-stopping Tom Lichtenheld.
The result of Chris and Tom's collaborative efforts is a celebration of the creative spontaneity of a child's mind while satisfying the adult reader's taste for dry-witted humor. The cataclysmic action scenes are packed with tiny treasures such as a reticent caboose or ineffective score-keeping grown-ups. Chris' clever words keep you reading. Tom's fascinating drawings keep you looking. In short, Shark vs. Train is simply a timeless train-wreck of great fun!
Who's the victor, you ask? Shark or Train? If you're really lucky, you'll be the winner in this ReaderKidZ's Shark vs. Train giveaway and can keep score for yourself!
For an opportunity to win, access the Get on Board section of Chris' website, enter an email in the space provided, and hopefully, a copy of the book will be chugrr-chug-chugging your way.