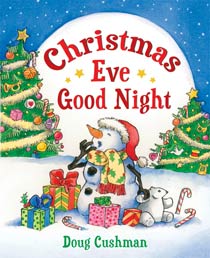 CHRISTMAS EVE GOODNIGHT by Doug Cushman (Henry Holt 2011)
How do the animals, people, toys and elves at the North Pole say good night on Christmas Eve? Not necessarily the same way you would. Cushman's gentle, humorous, rhyming text and bright, bold holiday illustrations let reader and young listener find out, case by case. Nutcrackers, reindeer, robot toys, even gingerbread men bed down in this ideal holiday season read-aloud picture book.
To enter to win a copy of Doug Cushman's Christmas Eve Goodnight please click HERE and remember to use the subject line ReaderKidZ Giveaway. Happy Holidays!