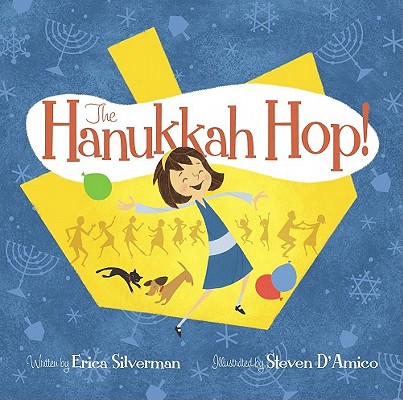 Hanukkah begins at sunset on Tuesday, December 20th and what better way to welcome the holiday than with the gift of Erica Silverman's newest book, THE HANUKKAH HOP, illustrated by Steven D'Amico! This lively bim-bopping celebration of the Festival of Lights is one you'll want to share with family. And when you reach the page where the klezmer band appears, and the "Musicians are strumming and fiddling and drumming…" you, too may be inspired by the "biddy-biddy bim-bop" to "Dive! Jump! Pop! … at the Hanukkah Hop!" In fact, why not drop everything and listen to Itzhak Perlman playing Klezmer in the video below!
To enter to win a copy of THE HANUKKAH HOP, please click HERE or send an email to readerkidz at readerkidz dot com with Hanukkah Hop Giveaway in the subject line. Check out more of our favorite Hanukkah books HERE.
Congrats to Linda S. – winner of THE HANUKKAH HOP!