Matt Faulkner's books have earned awards and high praise: "exuberant", "eloquent", "your corn looks real!" I think that Matt Faulkner is the most brilliant author/illustrator of our time, but I admit, I may be a bit biased: Matt and I got married last December. To celebrate our first anniversary, I'd like to give a gift to the ReaderKidZ community – 4 fantastic book recommendations and a chance to win a piece of Matt Faulkner's original art! Please send an email to me HERE or to kristenremenar at gmail dot com with "Matt Faulkner – ReaderKidZ Giveaway" in the subject line. Be sure to include your mailing address and hopefully I will draw your name for an original painting by Matt Faulkner from his book The Pirate Meets the Queen!
A Taste Of Colored Water written and illustrated by Matt Faulkner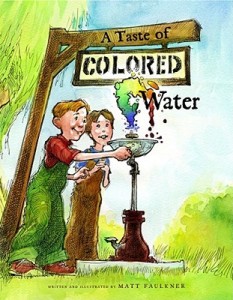 What would colored water taste like? Lulu and Jelly, two white children in the segregated South, imagine it must taste like orange, cherry, lemon, all the flavors of a rainbow. They decide to get a taste when they finally go into town. Confronted with the reality of racism in the 1960's, the children end the story, disillusioned, wondering what color you have to be to get a taste of colored water. How do we talk with our children about tough issues like racism and civil rights? We can start by sharing beautiful, thought-provoking stories like this one.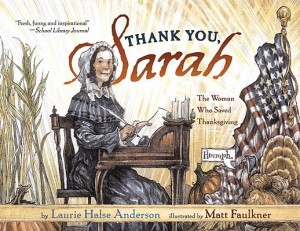 Thank You, Sarah: The Woman Who Saved Thanksgiving written by Laurie Halse Anderson and illustrated by Matt Faulkner
If you've been looking for interesting "narrative non-fiction" (informational books that flow more like a story than an encyclopedia excerpt), here is the ideal book. Thanksgiving wasn't a national holiday until 1863, after years of dedicated petitioning and letter-writing led by Sarah Hale. How many years? Thirty-eight! Sarah Hale wrote magazine articles, letters to politicians, and wrote to president after president asking that our nation come together in the spirit of thanksgiving one day of every year. Her story of patience and persistence will make you appreciate the holiday, and the power of the pen, that much more.
The Monster Who Ate My Peas written by Danny Schnitzlein and illustrated by Matt Faulkner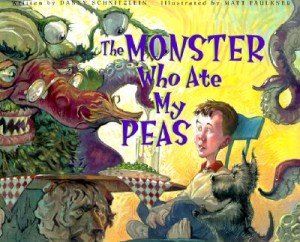 The Monster Who Eats Kids' Vegetables shows up at dinnertime to help a boy who doesn't want to eat his peas, but there's a catch. The Monster will eat the peas if the boy gives him something in return. His soccer ball? His bike? Not (gasp) his dog? How far will the boy go to avoid eating peas, and what will he do if he doesn't make the trade? Told in bouncy rhyme, this is a terrific read-aloud for the pickiest of eaters, especially if you do a big evil laugh – Mwahhhahahaha! – like Matt does when he shares it at school visits.
Stand Tall, Abe Lincoln written by Judith St. George and illustrated by Matt Faulkner
How did a boy who was poor, unschooled, and had lost his mother by the time he was ten end up becoming one of our nation's greatest presidents? Stand Tall, Abe Lincoln is a biography in the "Turning Point" series, focusing on the early years of amazing people to see the obstacles they overcame and how they were helped along the way. A turning point in the life of Abraham Lincoln was when his father brought home his stepmother, Sally Bush Johnston. She had faith in Abe all along, even when he balked at a stepmother and three new step-siblings, and she filled their home with books. It's so wonderful to share with kids a true story where the stepparents aren't evil! Biographies are powerful because they are true, and some kids need to hear true stories to believe that even if they come from disheartening beginnings, they too can go on to lead incredible lives.