Why are kids drawn to books like the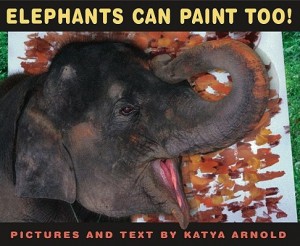 "Diary of a Wimpy Kid" series? In part, because of the art. Kids, particularly reluctant readers, come into my library clamoring for books like Jeff Kinney's "Wimpy Kid" books partly because of the doodles and drawings.  All kids can "read" the drawings, and they're inspired to doodle themselves (just not in the library books, I remind them.)
This holiday season, I am encouraging the inner artist while hopefully expanding someone's reading repertoire. Give a child inspiration and the tools to get creative with great books and art supplies! And check back tomorrow for an extra special ReaderKidZ giveaway!
Elephants Can Paint Too! by Katya Arnold (Atheneum, 2005)
I am so in love with this book. Katya Arnold shows in amazing photos her two different painting classes, one for children and one for elephants. It's so fun to see on one page a young boy holding a brush in his hand and painting a mural of brightly-colored dots, and on the next page, a similar dot painting being made by an elephant with a brush wrapped tightly in her trunk! There's large, minimal text for young listeners and more informational text for older readers, but all ages will be astounded by the beautiful art elephants can paint. Give this book with a set of watercolors and brushes, or fingerpaints (along with a suggestion that nose-painting really should be left to the elephants).
Over in the Ocean in a Coral Reef written by Marianne Berkes and illustrated by Jeanette Canyon (Dawn Publications, 2004)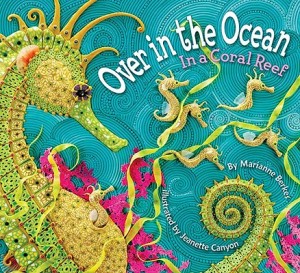 You will not believe what Jeanette Canyon creates with polymer clay. Take a close look at this counting book and you'll see that every swirl of water, every ribbon of seaweed, every intricate fish scale, is made with clay. Little readers will enjoy the rhyming and counting, but kids of all ages will be eager to try making their own clay creations with the tips from the artist included at the back of the book. Give this book and a pack of Sculpy polymer clay (or non-toxic dough for younger ones) and let kids form their own fun.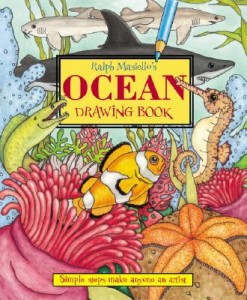 Ralph Masiello's Ocean Drawing Book by Ralph Masiello (Charlesbridge, 2006)
Ralph Masiello has a fantastic series of drawing books for kids who like step-by-step instructions. I love how easy Ralph makes the drawing process. Following each simple line step led me to draw a squid that actually looked like a squid! This book, plus a blank pad of paper and colored pencils, will be a great gift for kids love to draw.
Art Is… by Bob Raczka (Millbrook Press, 2003)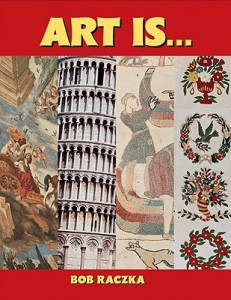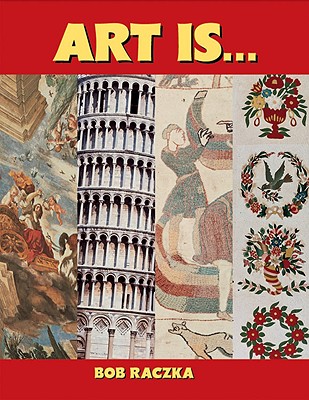 "Art is moving. Art is daring. Art is for playing. Art is for wearing." Open this book and it's like a mini-art-museum tour, with a cave painting from 15,000 B.C., a sculpture by Picasso, a mobile by Alexander Calder. Raczka keeps the text minimal and lets the art speak for itself, resulting in a gorgeous book that all ages can enjoy. Those who want more information about each piece of art can find it in the author's notes at the end of the book. Give this book with oil pastels, scissors and interesting papers or fabrics, any art materials, and let kids be inspired by centuries of beautiful artwork.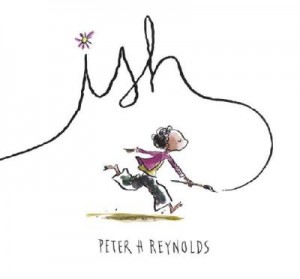 Ish by Peter H. Reynolds (Candlewick Press, 2004)
Ramon loves to draw; at least, he did, until his older brother Leon laughed at his artwork. Now when Ramon tries to draw, none of it looks "right". He crumples each page and tosses it on the floor.  Ramon finds in his sister's room a "crumpled gallery", all the art he'd thrown away but which she treasured. " 'That was supposed to be a vase of flowers,' Ramon said, 'but it doesn't look like one.' 'Well, it looks vase-ISH!' she exclaimed." Soon Ramon is filling journals with ish art, loose and free, even writing poem-ish writing, living "ishfully ever after". For those of us who need permission to make art even when it doesn't look "right", this is a wonderful gift book.  Give it with dry-erase markers and a dry-erase board in a picture frame, and encourage a child to make something "ish" every day.