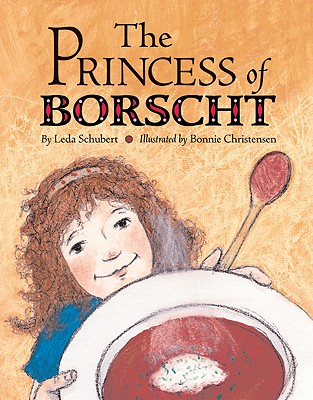 Author Leda Schubert talks about her new picture book THE PRINCESS OF BORSCHT, illustrated by Bonnie Christensen. (Roaring Brook 2011)
The idea for "The Princess of Borscht" came almost ten years ago. As I recall it now, my husband said something like this: "Someone should write a book about borscht."  Sounded like a good idea to me. But what was the actual story? A book about borscht cannot be a book about dogs, and books about dogs are the most fun to write. Why? Because they are about dogs.
Borscht is soup made from beets, which are yummy purple vegetables that taste sweet when they're garden-fresh. (I cannot, however, grow beets in my garden; I plant them and they disappear.)  I have made borscht many times, which is a brave thing to do. Why? Because beets stain everything they come in contact with. The sink, clothes, pots, fingers, the wall, the countertop, etc. In fact, Bonnie Christensen, esteemed illustrator, made borscht and threw it about her kitchen to get an idea of what the droplets might look like. Big mistake. Readers, do not let this unpleasant fact deter you from borscht. Everything washes out, really!
To celebrate the publication of "The Princess of Borscht", I am happy to give away a few copies. If you would like a chance to get one, go to www.ledaschubert.com and click on the link that says "CONTACT." Please use the subject line "ReaderKidZ" and send a thought about borscht, or even a recipe. I might post recipes on my website. Winners chosen at random.